Leading Medical Device Developer Celebrates 15 Year Anniversary
Wideblue celebrated 15 years of success in April 2021. The multi-award winning firm was created on 01 March 2006 with a management-buy-out of Polaroid's European Research and Design Centre, and is now regarded as one of the UK's leading independent product design firms.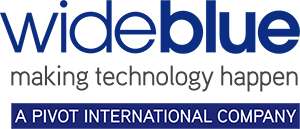 CEO, Russell Overend, explains: "Celebrating our 15th year anniversary is a huge milestone, and we have certainly seen big changes since the management-buy-out created Wideblue in 2006. Highlights include winning our first Innovate UK project in 2013, winning European Product Design awards in both 2017 and 2019, and Pivot International acquiring a majority stake in 2018 enabling us to add global manufacturing and supply chain to our scope.
"I'm delighted to say 15 years later Wideblue still has a healthy mix of experienced engineers from the original Polaroid days, through to talented new scientists and engineers. The multi-disciplinary team has a wealth of experience designing new products ready for manufacturing with a range of trusted worldwide suppliers. Through the Pivot International organisation Wideblue can design new products with access to the latest components, technologies and manufacturing in UK, EU, USA, Mexico, China, Taiwan and Philippines."
"The last year has been a challenge for all of us, but for Wideblue it has presented many new opportunities and has resulted in us expanding our team to 22 to meet the demand for Covid-19 response medical products. We are currently adding a new medical and optical clean room, manufacturing, test and development space, which is being used for small volume start up production for clinical trials and launch quantities."
Overend adds: "We are currently working on new medical devices, consumer products, industrial products, quantum technology, instrumentation, renewables instrumentation, and security with clients in UK, Belgium, Portugal, Spain, USA, and Canada."
Since 2006 Wideblue has been delivering hundreds of projects for a variety of organisations from start-ups and university spin-outs to multinational corporations. The company is frequently engaged in collaborative projects working with some of Europe's leading research organisations and universities, especially in the areas of imaging, optoelectronics and bio-medical engineering. The skill set in-house ranges from physics, optics, electronics and software through to mechanical engineering, prototyping, manufacture and supply chain management.
For further information about Wideblue please visit www.wide-blue.com