Men and women in the medical operational support group travel the world to learn how to help the UK respond to the next epidemic or crisis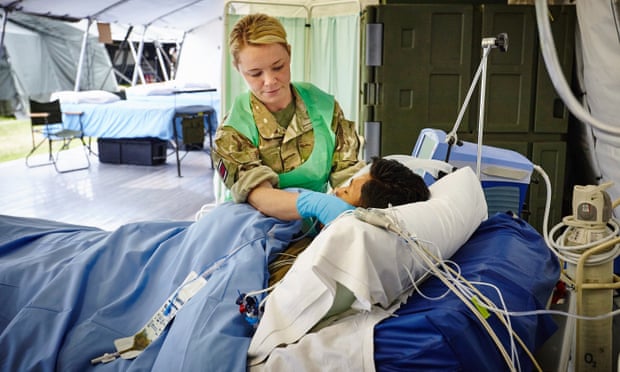 Last month, 40 members of the army reserve headed to Free Town, Sierra Leone on a 16 day training exercise. They are part of the medical operational support group (MOSG), a unit that was formed in the wake of the Ebola crisis, which gives specialist support to military exercises and operations worldwide.
The exercise is intended to help the army understand, discover and develop its ability to provide healthcare support in challenging environments. The MOSG is used to provide many services including: medical expertise in command and staff work; health sector development; humanitarian relief; clinical mentoring and advisory capability; medical intelligence; environmental health expertise and clinical specialists. It is also made up entirely of members from the army reserve.
Major Stuart Shields is a GP in the NHS and uses that experience as a pre-hospital care advisor in MOSG. His aim in Sierra Leone is to get a better understanding of how to gather local health intelligence and build networks, and allocate the appropriate resources quickly. At the same time, he will learn the best way to protect our troops, while also developing a sustainable primary care health service for the local population that meets their needs.
Shields adds that the opportunity to travel in the army reserve has been an integral part of the role: "We are all employed according to our civilian qualifications and experience but we have to be confident that we can deliver when it's a more challenging environment," he says. "It's all very well delivering on your day job but it's a different matter when the circumstances are less than ideal and you are in tents using simple but robust equipment. There's no substitute for actually being there in the field.
"Last year as part of the army reserve, I worked on delivering primary care from a mobile hospital in an earthquake response scenario and I learned an incredible amount about everything from advanced trauma life support to workload management, paperwork, and referral pathways. It gave me lots of ideas about how an urgent care centre in the UK could be set up if needed. [Such] leadership training would have been extremely difficult to replicate in a civilian scenario."
Major Janet Kelly is the media operational officer for MOSG, who works as a lecturer in healthcare law and ethics at the University of Hull in civilian life. She will be capturing the lessons learned on the exercise and sharing them with the military and academic world. This, she explains, is a critical part of ensuring the success of future crisis support and training exercises – particularly when it comes to matching local need with western expertise.
"In the past, western focused medical aid was sometimes parachuted in and not really best matched to the local skills on the ground or sustainable in the long term," she says. "Creating best practice procedures that are locally appropriate is a big part of what we are going to gain and should also help us to better plan a medical exit strategy. This will mean that the people we help are not suddenly left without the resources or skills to continue helping the local population.
"I find my role incredibly fulfilling and would encourage anyone to give it a go. There really is something for everyone and so many opportunities to make a difference".
To find out more about how you can reach 100% of your potential in 10% of your time, search army reserve officer, or call 0345 7622611.
Source: the Guardian