Scotland's health "is not improving" as the NHS faces "significant challenges", Audit Scotland has warned.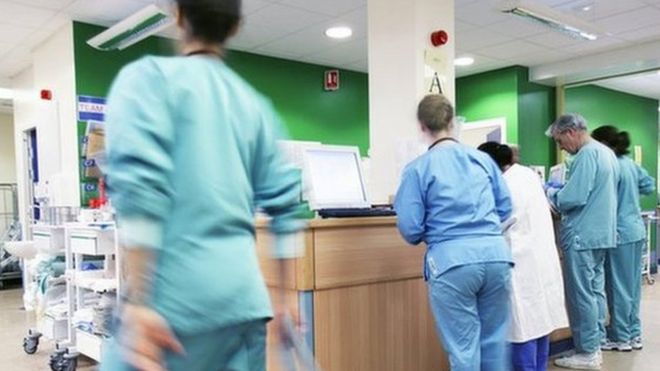 The watchdog's annual report lists concerns over missed targets, longer waiting times, "stalled" improvements and growing pressure on budgets.
Scottish Labour has renewed its calls for Health Secretary Shona Robison to quit in light of the report.
Ms Robison insisted that "significant" improvements have been made, while stressing that there is "no quick fix".
The report was the focus of much of Thursday's weekly session of questions to the first minister at Holyrood, with Nicola Sturgeon acknowledging "big challenges" for the health service.
But she insisted that "against many measures" the Scottish NHS was performing better than elsewhere in the UK.
The Scottish government published its "blueprint" for the future of the NHS in December 2016, aiming to treat people closer to home rather than in hospital.
'Significant challenges'
Audit Scotland's latest annual report stated that there was a "general consensus in Scotland that healthcare cannot continue to be provided in the same way", but concluded that "more progress needs to be made if transformational change is to happen".
It found that existing challenges like "increasing costs, growing demand, and the continuing pressures on public finances" had continued to "intensify" in 2016-17.
The public spending watchdog said there had been progress, but warned that "fundamental" areas still needed to be addressed.
"Significant concerns" flagged up in the report include:
A 99% increase in the number of people waiting more than 12 weeks for an outpatient appointment - "more people are waiting longer to be seen"
"The majority of key national performance targets were not met in 2016-17"
General practice faces "significant challenges", including recruiting and retaining GPs and "low morale"
There is a "lack of financial flexibility" for health boards and a "lack of long-term planning"
The overall health of Scots "continues to be poor and significant health inequalities remain"
Life expectancy is "lower than in most European countries" and improvements have "stalled"
Drug-related deaths have "increased significantly" with the rate "now the highest in the EU"
"There are warning signs that maintaining the quality of care is becoming increasingly difficult"
At £12.9bn, health funding now accounts for 43% of the overall Scottish government budget.
Despite an increase in the NHS budget, rising operating costs have meant health boards had to make "unprecedented" savings of almost £390m in order to break even.
And while the budget for 2017-18 saw an increase in cash terms, there was actually a decrease of 0.1% in real terms from the prior year.
The Audit Scotland report concluded that simply adding more funding was "no longer sufficient" to achieve the "step change" needed across the system.
It said that budgeting on a year-by-year basis is "hindering development of longer-term plans for moving more care out of hospital", and said a clearer long-term financial framework was "critical".
'Positive impact'
However, the report did state that there is a "positive basis on which to build" for Scotland's NHS.
It noted that Scotland has had "a consistent overall policy direction in health for many years" and there was "broad consensus" on goals.
It said that staff "remain committed to providing high-quality care", while levels of overall patient satisfaction "continue to be high" and the Scottish public "hold the NHS in high regard".
And it noted that early signs are that changes in the way services are planned and delivered are "beginning to have a positive impact", such as a reduction in delayed discharges.
Auditor General Caroline Gardner said there was "widespread agreement" that healthcare "must be delivered differently if it is to withstand growing pressure on services".
She said: "There is no simple solution, but these fundamental areas must be addressed if reform is to deliver the scale of transformation that's needed across the NHS.
"Involving staff, the public and bodies across the public sector will also be crucial for success."
At Holyrood, Scottish Conservative leader Ruth Davidson accused First Minister Nicola Sturgeon of trying to sweep concerns about the health services under the carpet.
She said the Scottish government was "struggling to do the basics", adding: "The SNP set their own targets to make things better but they've improved in only one in the last five years.
"We know there's no long term plan even though one was promised for the start of this year, that GPs are being underfunded and that we spent £171 million hiring in agency staff to plug the gaps."
'Big challenges'
Labour's interim leader Alex Rowley said problems with the health service were "spiralling out of control".
He acknowledged that reform of the NHS was not easy, but said the government was "not doing enough and is not moving fast enough".
In response, Ms Sturgeon said there were "big challenges" for the NHS - but said these existed "in every health service across the developed world".
She said: "In meeting these challenges in Scotland, and they are big challenges, I think against many measures we are seeing the NHS in Scotland perform better than the NHS in any other part of the UK - and that's because of the actions we're taking."
Labour also said the report showed that it was "time for Shona Robison to go as health secretary".
Ms Robison insisted there were some "encouraging" elements to the report, highlighting high patient satisfaction and "innovative work being done".
She said there had been "significant improvements in Scotland's health system" under the SNP, "driven by our clear vision for the future for the NHS", citing increased staff levels and "record investment".
The Dundee MSP said: "We have long been realistic about the challenges for the NHS and the need for change.
"We're working to develop a medium term financial framework, within the context of the budget settlement that the Scottish government receives. This will be to outline the broad direction for the NHS and care services to meet the changing needs of the people of Scotland, including shifting the balance of care towards community health services.
"It's important to stress however that improving the nation's health for the long term requires more than acute care - there's simply no quick fix."
She said the government had introduced a range of long term measures designed to make Scots healthier
"Ultimately, our work across government will ensure the people of Scotland can continue to look forward to a healthier future," she said.
Source: BBC