The University Hospital of Wales should become the first designated major trauma centre in the country, NHS bosses have recommended.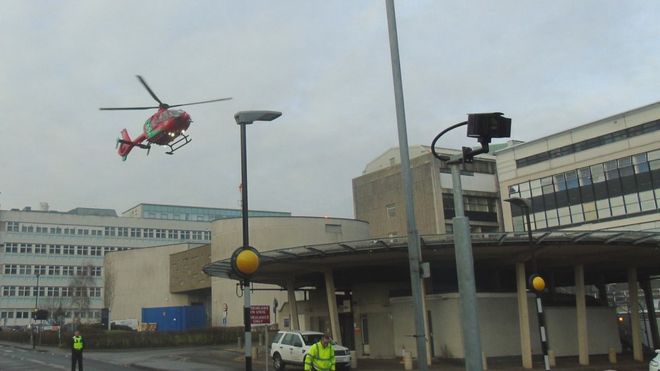 Wales' biggest hospital in Cardiff beat off competition from Morriston in Swansea to provide round-the-clock care for the most serious casualties.
Senior health bosses have agreed with an independent panel's findings.
Expertise in dealing with head injuries and badly hurt children was the clinching argument for Cardiff.
It will be at the heart of a trauma network covering south and west Wales and south Powys. North Wales is already covered from the north Staffordshire's major trauma centre (MTC).
A final decision is still subject to approval by the region's six health boards next week.
After a public consultation, the NHS Wales Collaborative said it could find no reason to alter or reject the findings of the panel, which were:
A major trauma network should be "quickly developed" and with a "clear and realistic" timetable.
The adult and children's MTCs should be on the same site.
The MTC - the first in Wales - should be in Cardiff.
Morriston Hospital, Swansea should become a major trauma unit (MTU) and should have a "lead role" for the major trauma network.
Discussions about establishing a major trauma network in south Wales have been under way since 2014.
Early on in the process it was established that only Cardiff and Morriston could provide the necessary specialist services.
Morriston - which has a specialist burns and plastics unit - had also argued it was better located, with a greater proportion of south Wales within an hour's travelling time.
More than half of responses to the public consultation came from the Swansea area, which had the most vocal opposition to the recommendations.
But the body of NHS senior figures backed the panel's view that neither Swansea or Cardiff "would have any significant advantage over the other in terms of geography".
---
How the major trauma network works in north Wales
North Wales is already served by the major trauma centre at the University Hospital of North Midlands in Stoke-on-Trent.
Around 17% of all its patients come from across the border.
Since it was introduced six years ago, there has been a reduction in the mortality rate for trauma cases of 63%.
Dr Ann Marie Morris, emergency medicine consultant at Stoke, said: "The highly specialised consultant-level care from the arrival of the patient makes a big difference and the expertise is centralised, 24-7, which is not possible at every hospital in the country."
She said it was about how well the network of hospitals worked together and how patients were able to be cared for closer to their homes once their critical care and acute rehabilitation had been completed.
Dr Morris, originally from the Rhymney Valley, added: "I think it makes a big difference for those patients from north Wales - we work really closely with all the trauma units - and I hope it will be the same soon for my family in south Wales."
One patient who was ready to be discharged was haulage contractor Gareth Jones from Llanbrynmair in Powys. He was airlifted a week ago to Stoke with a serious leg injury and needed a seven-and-a-half hour operation.
He was hooking up a trailer to a lorry when it started moving and he got run over trying to stop it.
"Without the staff here I wouldn't be home today," he said. "I've nothing but praise for them. Without the helicopter, I don't suppose we'd have this choice - but they're been absolutely brilliant."
---
Plaid Cymru's South Wales West AM Dr Dai Lloyd - a supporter of Morriston's case - called on Abertawe Bro Morgannwg and Hywel Dda health boards to reject the proposal and wants a vote in the Assembly because of the decision's "strategic importance".
In response to concerns about the impact of workload on the Cardiff hospital, NHS bosses say Cardiff and Vale health board will undertake a review of which of the regional services it currently provides "might safely and appropriately be delivered at other hospitals".
It said an initial discussion had taken place with the Welsh Government on refurbishment and longer term solutions.
Consultant Jack Parry-Jones, who is on the board of the Faculty of Intensive Care Medicine, said it was crucial that resources were put into more critical care staffing, if the MTC was to work.
"Although the numbers [of patients] may be small, with major trauma it's much more to do with the length of stay and so the number of critical care bed days," he said.
"It needs a lot of resources and critical care is fundamental - you can't run a major trauma centre without it and you must have the capacity and staffed beds."
Source: Owain Clarke, BBC Wales health correspondent, BBC News