Senior doctors are calling for graphic images of injuries to be displayed on firework packaging.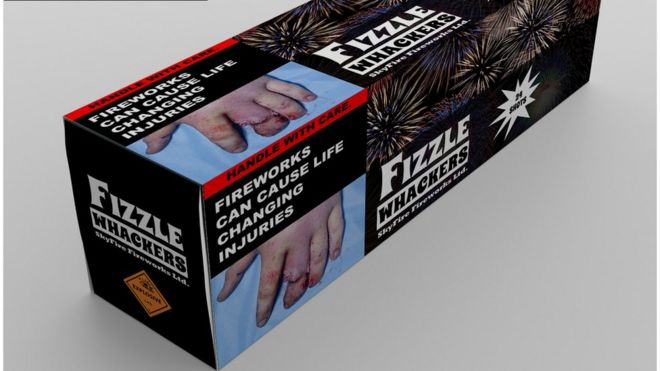 Plastic surgeons say the number of life-changing injuries is rising every year despite numerous safety campaigns.
They believe shocking images, like the one they have mocked up using a man's severely damaged hand, might deter buyers.
Half of those seen in hospital last year were aged 18 or under, and 80% were male.
'Handling explosives'
The campaign is being led by the British Association of Plastic, Reconstructive and Aesthetic Surgeons (Bapras).
Bapras president David Ward said: "We are extremely concerned about the continued misuse of fireworks, particularly by those under the age of 18 away from organised events.
"Although [fireworks are] packaged in a jovial, toy-like fashion, people forget that when using fireworks, they are handling explosives which can cause extremely serious injuries that may require extensive reconstructive surgery.
"Bapras is calling on the government to make a common-sense change by legislating to ensure all firework packaging in the UK includes mandatory graphic warning notices, similar to those found on cigarette packaging."
Almost 4,500 people in England attended A&E with injuries from fireworks last year, double the number in 2009-10, according to figures from NHS Digital.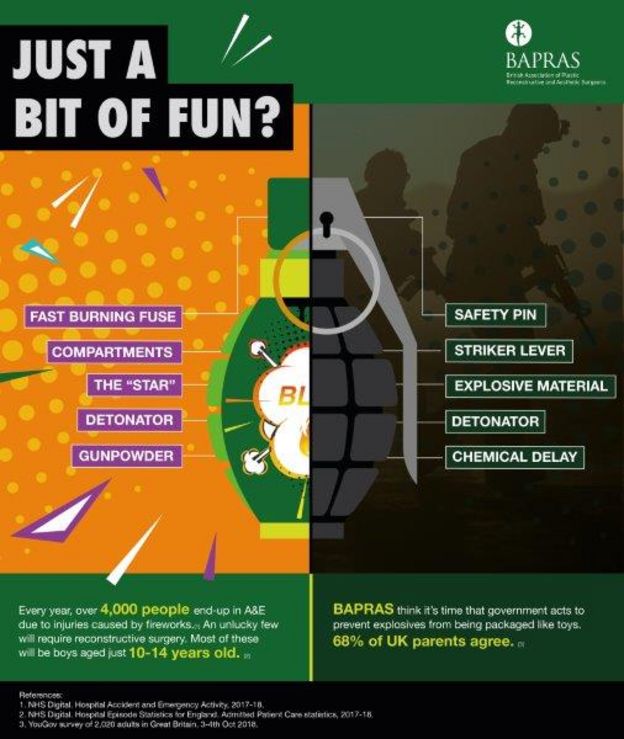 Surgeons say injuries are typically caused by people throwing rockets which either explode early, or hit someone close by.
'I can't feed myself'
The hand used in the campaign belongs to a 25-year-old-man from Wales, who did not wish to be identified.
"My friend threw a firework which landed by my feet. When I picked it up to move it out of the way, it exploded in my hand. I've had five operations, with plastic surgeons reconstructing parts of my fingers, and months later I still have three operations to go.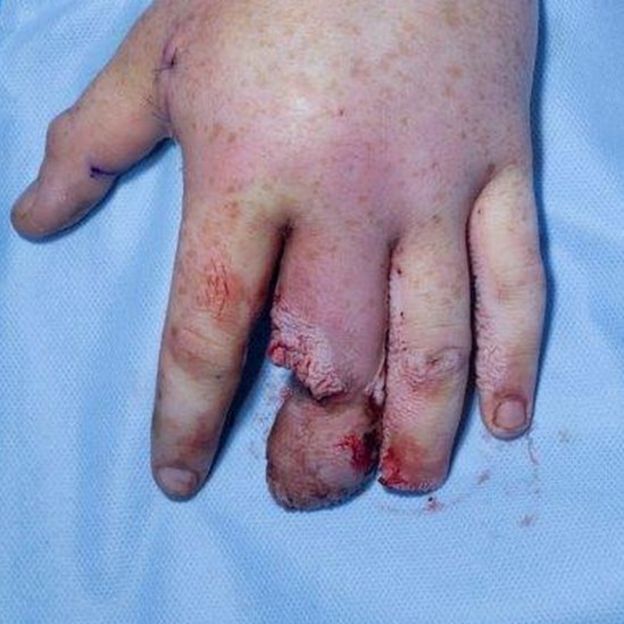 "The incident has had a huge impact on my life. I can't feed myself or play with my new-born kid.
"A clearer warning label might have made me and my friend think twice about the potential danger," he said.
Many fireworks are currently packaged in the bold colours of children's toys, and the warnings are often found in small boxes on the back of the packaging.
Legally you have to be 18 or over to buy fireworks, yet the hospital statistics show that many injuries requiring surgery are in males under the age of 18.
Jim Fitzpatrick, MP for Poplar and Limehouse, is also supporting the campaign.
"There is an urgent need for government to introduce graphic warnings on firework packaging. The hope is that a graphic image of the potential dangers of misuse may stop someone in their tracks, preventing a possible life-changing injury."
A YouGov poll of 2,020 adults conducted in October found that 62% supported introducing graphic warnings on fireworks packaging.
The campaign is also being supported by the Royal College of Surgeons and the British Society for Surgery of the Hand.
Source:
Laurel Ives, BBC Health
One of the UK's senior plastic surgeons, Mr David Gateley, shares his view that this measure doesn't go far enough and that fireworks should be banned.
"The idea that gratuitous imagery of fireworks' injuries should be shown on pack, as in the case of cigarettes, is contentious. We need the government to ban fireworks for home use as ultimately they are explosives. Terrorists are chased down around their possession of Semtex and yet the general public, some of whom are ill-informed, are permitted to use these 'soft' explosives in their back gardens.
I have worked for many years as a reconstructive surgeon in burns units during this time of year and the number of tragic injuries we saw as a result of homemade fireworks displays was huge. I would go so far as to say that fireworks should only be permitted in large, well organised displays and should not be sold over the counter."
About David Gateley – David Gateley is one of the UK's senior plastic and reconstructive surgeons (MA FRCS FRCS(Plast) who worked for 32 years in plastic surgery for the NHS, including training the country's next generation of plastic surgeons at St George's Hospital. He is now Consultant Plastic Surgeon at DRG Plastic Surgery in Harley Street London.