Hospital Ballroom Blitz: The Old Operating Theatre Museum Late
The Old Operating Theatre Museum
September 21, 2023
Join the Old Operating Theatre this Autumn Equinox for a trip back to 1945!
For one night only, the museum will be transformed into a ballroom where you'll learn the Charleston Stroll (a non-partner dance). Guests should come dressed appropriately for a 1945 ballroom extravaganza.
Dance teachers will be on site to teach the steps, but if you want a preview you can check out this video .
About the event:
5:45 pm: Doors open.
6:00 pm: Welcome Speech and distribution of red and blue ribbons.
6:15 pm: Red ribbon group learns the Charleston Stroll in the Operating Theatre/Blue ribbon group has drinks and workshop activities in the Garret.
6:45pm: Groups Swap!
7:15-8:30 pm: Dance! Dance! Dance!
Meanwhile:

The Apothecary Bar is opened until 8:10 pm. Drink tokens can be purchased at Front of House (thematic cocktail £6).
Time to look at the exhibitions. (Be advised that we do not allow any drinks in the Old Operating Theatre itself).

8:30 pm: Event ends, but you can continue the party at Amazing Grace below us if you are so inclinded!
Endo Launches PREVDUO™ (neostigmine methylsulfate and glycopyrrolate injection), the First and Only FDA-Approved Neostigmine-Glycopyrrolate Combination Pre-Filled Syringe
Endo International plc (OTC: ENDPQ) announced that its Par Sterile Products business has begun shipping PREVDUO™ (neostigmine methylsulfate and glycopyrrolate injection) pre-filled syringe, the first and only FDA-approved neostigmine–glycopyrrolate combination product in the U.S.
"This is the latest way we're addressing operational and clinical challenges in order to support patient care," said Scott Sims, Senior Vice President and General Manager, Injectable Solutions & Generics at Endo. "With two medications in one ready-to-use syringe, PREVDUO™ reduces complexity and increases efficiency for hospitals and healthcare providers."
Both neostigmine methylsulfate and glycopyrrolate have been approved in the U.S. as single, active ingredient drug products. Neostigmine is always administered in conjunction with glycopyrrolate and, until now, its administration has required two syringes.
In April, Endo executed an agreement with Slayback Pharma LLC to distribute PREVDUO™ on an exclusive basis in the U.S.
Ready-to-use, or RTU, products streamline operations for hospitals by eliminating the need to prepare or transfer the product before patient administration. This may reduce waste and costs, optimize convenience and workflow and reduce the chance for preparation error—all of which support quality patient care.
Biolitec Laser System LEONARDO DUAL Performs Very Well with Radial FiLaC Laser Fibre in Acne Inversa and Sinus Pilonidalis
biolitec at the 140th German Surgical Congress (DCK) in Munich from April 26 – 28, 2023 at booth FEG08
– First pilot study for Acne inversa identifies FiLaC as alternative
– FiLaC fiber for Sinus pilonidalis: Study from China 100% healing rate
– biolitec laser system LEONARDO DUAL with two combinable wavelengths and radial laser fiber FiLaC very successful for anal fistulas and sinus pilonidalis
The radially emitting laser fiber FiLaC from laser pioneer biolitec is used together with the diode laser LEONARDO DUAL with two combinable wavelengths for the therapy of several diseases with very good treatment results: In addition to treatments for anal fistulas and sinus pilonidalis, a first pilot study confirms its high effectiveness for acne inversa as well.
biolitec will present the entire range of its laser therapies for anal fistulas and sinus pilonidalis, hemorrhoids, anal fissures and acne inversa at the 140th German Congress of Surgery (DCK) in Munich, Germany, 26th – 28th April 2023, at booth FEG08.
In a prospective pilot study1 from France on 34 Hurley II hidradenitis suppurativa patients, treatment with biolitec's FiLaC laser system was used as an alternative to existing minor surgical procedures. 45 lesions on axillae, groins, inner thighs, buttocks, perianal, among others, were treated twice with the FiLaC fiber from the inside. Pain was very low even on day 2. Early postoperative complications occurred in 12 lesions (27%). With a limited follow-up of 99 days (range: 8 – 193), recurrence was observed in only 5 patients (11%).
biolitec's minimally invasive laser therapy SiLaC for sinus pilonidalis, which also uses the radially emitting FiLaC laser fiber, also achieves high efficacy and low recurrence rates. A new retrospective study from Shanghai published in March 2023 with 48 patients showed a 100% healing rate with only one recurrence.2
Patients had been treated between March 2019 and July 2022. The average healing time was 28.3 ± 5.5 days. The average operation time was 15.5 ± 3.3 minutes. No wound infection or bleeding occurred after surgery. The average time to return to daily life was 7.1 ± 3.2 days.
Detailed and further information about the entire range of biolitec laser therapies for proctology can be found on our fair page at: https://www.biolitec-fair.com/en/coloproctology.
1 Guillem, P., Enault, C., Vlaeminck-Guillem V. Ultrasonography-guided intralesional diode laser for the treatment of Hurley II hidradenitis suppurativa: Results from a pilot study with 46 procedures. Abstract #63 at 12th Conference of the European Hidradenitis Suppurativa Foundation e.V. in Florence, Italy,on 8th – 10th Febrary 2023. https://www.biolitec-fair.com/en/coloproctology/trials-coloproctology
2 Li, Z., Jin, L., Gong, T. et al. An effective and considerable treatment of pilonidal sinus disease by laser ablation. Lasers Med Sci 38, 82 (2023). https://doi.org/10.1007/s10103-023-03741-1
Previa Medical Raises €2.1 million for AI Solution to Prevent Sepsis
Seed funding to initiate trial of SEPSI-SCORE© solution in hospital settings, demonstrating platform's potential to reduce length of inpatient stays and increase patient survival rates

Lyon, France, February 16, 2023 – Previa Medical, a deeptech start-up specialized in developing predictive medical devices for alerting healthcare providers to the risk of potential complications, today announces it has raised €2.1 million ($2.2M) in seed funding for SEPSI-SCORE©, a specialist AI-based solution designed to improve the early detection of sepsis in healthcare facilities.

The SEPSI-SCORE platform, which gained medical device certification in 2021, can alert healthcare professionals to potential sepsis cases – up to 48 hours prior to the development of first symptoms. The platform analyzes data directly from existing software in hospitals, in real time, from the Electronic Health Records (EHR) of patients, including their laboratory results, vital signs and medical history. As this enables healthcare professionals to accurately identify patients at risk, the required treatment can be administered as soon as possible, thereby increasing the chances of patient survival.

Sepsis is one of the leading causes of hospital deaths worldwide, with a 30-day mortality rate of 20 to 30%. SEPSI-SCORE therefore provides a much-needed solution to a major global public health issue.

"We're delighted to have secured this financial backing from our investors, a testament to their belief in our technology. We are confident that through their business development experience, technical expertise and network in the healthcare sector, we'll be able to take our business to the next level," said Quentin François, co-founder and CEO of Previa Medical.

Kreaxi, M2care, Veymont Participations, Hopla Memory, CCI Capital Croissance, Holding Seraip, Bpifrance and BNP Paribas participated in this first round of funding, with a contribution in the form of equity capital and loans from the Banque populaire AURA. This funding is in addition to a subsidy awarded as part of the Grand Défi sur l'IA et la Santé [AI for health challenge] launched in 2022 by BPI France and the French health ministry.

Previa Medical will use the funds to run a prospective multicenter clinical trial for SEPSI-SCORE, aimed at scientifically validating the solution to achieve two major objectives:
Reducing inpatient length of stays
Reducing the sepsis-mortality rate
The company also plans to strengthen its team, with a view to expanding its product's reach and preparing for the commercial launch phase.

"The management team's approach, as well as its decision to develop a solution for sepsis, a complex disease, have impressed me most about the Previa Medical project. There is a real medical need to improve monitoring, prediction and diagnosis," explained Sandra Dubos, investment director at Kreaxi. "This start-up's solution is completely agnostic and can be used for any patient who might be at risk of developing sepsis."

"M2care's decision to invest in Previa Medical was based on its highly skilled founders and their vision to develop viable applications for predictive medicine that will benefit patients and healthcare professionals alike. Our team of entrepreneurs in residence are convinced this solution has real potential; they are committed to de-risking the project's next clinical, commercial and financial milestones, while also accelerating its growth and strengthening its operational team," said Florence Thueux, president and managing director of M2care.

"We decided to invest in this dynamic start-up because it operates in the healthcare sector and uses AI in its technology. We have shareholders in both these areas who have valuable expertise that they can bring to the Previa Medical team," added Aymeri Chomel, president of Veymont Participations.
PDI International Hosts CPD-accredited Webinar Highlighting Importance of Air Decontamination in Healthcare Environments
A free CPD-accredited webinar for IPC professionals, Facilities and Estates will be hosted by PDI International to highlight why effective air decontamination is crucial to protect the health of both healthcare workers and patients in hospitals and support staff in implementing best practices.
Scheduled for Wednesday 1st March 2023 at 10:30am (GMT), Carole Hallam, Independent Infection Prevention and Control Nurse Consultant, will present on the importance of indoor air quality in healthcare environments and how the use of innovative technologies can be leveraged to help to tackle the risk of airborne infection, a topic that is becoming increasingly important in the face of the covid-19 pandemic and the rise of antimicrobial resistance (AMR).
The webinar, titled 'When Hand Hygiene and Cleaning are not enough; is it time to talk about Air Decontamination?' aims to provide education and support to IPC and professionals on how to take the best approach to mitigate the spread of airborne infections, and why maintaining good levels or air quality needs to be part of any effective infection control and prevention programme.
Carole Hallam, who will be leading the session, commented: "While hand hygiene is known to be one of the most important ways of controlling the spread of infections, air decontamination is also crucial in any hospital environment because the air can be a route of a variety of important disease-causing pathogens, without any clear signs. If not effectively filtered, it may cause a risk to the lives of staff and patients, especially those who are immunocompromised. Healthcare staff meticulously cleaning the premises clearly goes a long way to mitigating the risk of infection to anyone who steps foot in a hospital; however, it only goes so far."
Infection control remains a major challenge to healthcare professionals worldwide, with over 4 million people are affected by HAIs every year across Europe. It's estimated that over half of hospital acquired infections (HAI) are preventable and could be eliminated through evidence-based infection prevention and control strategies.
Although contact-spread is known to be the principle route of transmission for most infections, it's also acknowledged that the contribution of airborne pathogens to the spread of infection is likely to be greater than is currently recognised.
Some virus droplets, like Covid-19, are small enough that they can remain in the air for up to three hours and can be carried by movement of air due to their size.
In the UK, HAIs are estimated to cost the NHS approximately £1 billion a year. Airborne transmission is more prevalent in healthcare settings due to overburdened hospitals and the presence of immunocompromised patients.
Carole adds: "The COVID-19 pandemic has highlighted the significance of having solid IPC procedures in place. Our webinar will highlight some of the important challenges that experienced IPC professionals face and how to best overcome these issues."
PDI International is dedicated to leading the fight against preventable infections in healthcare and across communities. They help provide education 'on the go' to busy healthcare professionals in meaningful and engaging ways, to help them make a difference in the world.
Free registration and more information on PDI's upcoming webinar are available at:   Webinar Registration – Zoom
Industry-leading Experts to Speak at the 8th Annual Operating Theatres Conference
The 8th annual Operating Theatres Conference is the only public sector free-to-attend event of its kind announced for 2023, and will take place on 9th February 2023 at the AJ Bell Stadium, Manchester.
Organised by Salford Professional Development, a wholly owned subsidiary of The University of Salford, the event will see hundreds of delegates attend and a large exhibition to view. Register your places here.
Researched and developed with healthcare practitioners, the conference will explore critical topics such as the impact of the Covid-19 backlog on elective care, initiatives in reducing elective care waiting lists, sustainability and greener operations, and the latest policy updates and technology developments.

Bringing together a number of industry experts from across the country, the conference programme will include sessions from: Sir Jim Mackey, CEO, Northumbria Healthcare NHS Foundation Trust, and National Director of Elective Recovery for the Elective Programme; Professor Tim Briggs CBE, GIRFT Chair and National Director for Clinical Improvement and Elective Recovery, NHS England; Professor Scarlett McNally, Consultant Orthopaedic Surgeon, Eastbourne D.G.H and Deputy Director, Centre for Perioperative Care and President-elect, Medical Women's Federation; Dawn Stott, Chief Executive, The Association for Perioperative Practice; Heidi Barnard, Head of Sustainability, NHS Supply Chain and Numan Shah, Consultant Trauma and Orthopaedic Surgeon, Salford Royal Major Trauma Centre.
In addition to the conference, the day will offer numerous networking opportunities to share ideas and speak with colleagues and other like-minded healthcare professionals. Attendees will have the chance to discover the very latest in operating department equipment and technologies including RFID tracking operative equipment, 3D printing, virtual reality training software, and more from leading solution providers.
Don't miss out on the most accessible opportunity to gain insight on formidable challenges up ahead, network with and pose questions to prominent industry leaders, and uncover the best operating theatre supplies 2023 has to offer.
Future Surgery Partners with Royal College of Surgeons of England to Deliver their Largest Accredited Speaker Sessions
Returning to the ExCeL London on 15-16 November 2022, Future Surgery will deliver over 110 educational sessions – the largest to date – helping surgical teams to stay current with surgical innovation.
Delivered in partnership with the Royal College of Surgeons of England, the show invites all members of the theatre team to stay up-to-date with the latest technologies and hear from many of the leaders and experts who are firmly embedded in the surgical community.
Designed specifically to meet the training needs of surgical professionals and their multidisciplinary teams in perioperative care, the show features a high-quality CPD accredited speaker programme.
The conference brings together world-leading academics and industry experts. Providing delegates with an unrivalled opportunity to explore the latest trends, develop their skills and stay-up-to date with the latest technologies and innovations that are shaping the future of surgery, in a highly rewarding environment.
Spread across 6 dedicated education theatres, the show will feature over 110 expert speakers leading keynote sessions, panel discussions and workshop sessions.
Together they will explore a wide array of key themes including: disruptive technology, connectivity, human factors, and training and research to support surgeons at all stages of their career and promote patient safety.
Yemi Ibidunni, Event Director said: "The Covid-19 pandemic has contributed to huge backlogs in elective care and so the topic of patient safety is even more prominent. The conference will explore the current challenges facing surgical care and offer diverse perspectives on how to help improve the situation."
"It has something for all members of the surgical care team, from surgical care practitioners to trainees and consultants, delivering a wide range of high-quality CPD accredited training and education across two full days. We look forward to welcoming surgeons, anaesthetists and the whole perioperative team with the shared goal of exploring current challenges and looking at how the future of surgery will be mapped out."
With a comprehensive programme featuring thought-provoking panel discussions, inspirational keynotes, as well as interviews with celebrated surgeons and industry experts, here are a few of this year's key highlights:
· For the first time, the Women in Surgery conference will be held at Future Surgery. Delegates will be able to visit the WinS Theatre on both days to see exciting sessions on intersectionality and surgery, inspirational #ILookLikeASurgeon panels, neurodiversity, training, and lots more.
· Panel Discussion on the 'Recovery of elective services' (15 November, Theatre 1, 10:00 – 11:15). In February this year, the NHS and government set out a blueprint to address the backlog and long waits for care. The expert panel will be sharing an update on the recovery and share their thoughts on practically what needs to happen next.
· Robotics panel (15 November, Theatre 2, 12:00 – 12:50). Join this expert panel to learn about innovative practice using robotic surgery and augmented reality, robotic assisted thoracic surgery in the UK, and more.
· An interview with Dr Henry Marsh CBE (15 November, Theatre 2, 11:15 – 11:45). This interview will see Henry Marsh – widely known as a pioneer of neurological advancements in Ukraine – discuss how his opinions about surgery changed profoundly over the 40 years of his career and the increasingly difficult environment in which surgeons now work.
· Transforming Theatre through Augmented Reality (16 November, ASiT innovation Theatre, 10:10 – 10:25). Led by Will Bolton, the Association of Surgeons in Training (ASiT) Innovation Lead supported by BBraun UK where he develops opportunities for trainees to gain experience in surgical innovation.
The event's programme is supported by the surgical Royal Colleges of England and Edinburgh, ASiT – The Association of Surgeons in Training, and The Association for British HealthTech Industries (ABHI).
To view the 2022 conference programme and register your place*, visit: https://www.futuresurgeryshow.com/welcome
*Future Surgery passes are valued at £499+VAT, however, if you are a registered Health Professional in the UK you may be eligible for a complimentary pass.
Future Surgery Returns as the Flagship Event for the Surgical Sector
Over 4,500 healthcare professionals from across the surgical sector will reunite in London on 15–16 November 2022 for the largest surgical event of the year.
Delivered in partnership with The Royal College of Surgeons of England, Future Surgery will be the biggest gathering of surgical and operating theatre teams with over 100 exhibitors and 100+ speakers set to attend this year.
The show promises an action-packed programme with high-level training and Continuing Professional Development (CPD) accredited education delivered by leading academics and industry experts over two days.
The comprehensive 2022 conference programme will also feature a host of thought-provoking panel discussions, inspirational keynotes and practical insight sessions. They will all focus on this year's key themes exploring wellbeing, innovation in surgery, disruptive technology, global health innovation, and sustainability.
Last year the show delivered a number of key highlights, including hosting for the first time the ground-breaking Association for British HealthTech Industries (ABHI) Surgical Simulation Theatre of the Future. The one-of-its-kind simulated operating theatre will be making its return, giving delegates an unrivalled chance to see the latest pioneering surgical techniques being performed by some of the biggest names in surgery.
Also making its return to the conference is the Association of Surgeons in Training (ASiT) Innovation Summit, which will promote best practice in surgical training. New for 2022 is the Women in Surgery conference, which for the first time will be held within the flagship event on both days. Altogether unveiling a bigger programme for 2022.
Yemi Ibidunni, Event Director said: "Innovation has an integral role to play in surgery. Future Surgery is a prime opportunity for the surgical community to come together to learn, share ideas and explore the latest cutting-edge technologies and trends in the sector. And together explore how to move the industry forward. Our accredited speaker programme is carefully curated to explore a number of big topics such as sustainability, innovation and patient safety, with lots of insightful and thought-provoking content interspersed across both days.
"This year we are excited to be welcoming back the ABHI Surgical Simulation Theatre, as well as hosting the ASiT Innovation Summit, and for the very first time the Women in Surgery conference, with our 2022 programme shaping up to be even bigger and better."
Future Surgery – which takes place at the ExCeL London – is delivered in partnership between CloserStill Media and The Royal College of Surgeons of England (RCS England). The event encourages shared insights and training, enabling the entire perioperative team to reflect, and learn how technology and new ways of working are revolutionising patient care and outcomes in the UK and worldwide.
The event features 6 dedicated educational theatres, running CPD accredited content simultaneously throughout both days.
To view the 2022 conference programme and register your place*, visit: https://www.futuresurgeryshow.com/welcome
*Future Surgery passes are valued at £499+VAT, however, if you are a registered Health Professional in the UK you may be eligible for a complimentary pass.
Smith+Nephew introduces smart glasses into the operating room to enable remote technical support for UK surgeons during procedures
Smith+Nephew the global medical technology company, today announces a partnership with Rods&Cones to provide smart surgery glasses and digital remote assistance to customers. By providing customers with smart surgery glasses, Smith+Nephew representatives can 'see' through the eyes of the surgeon, instrumentalist nurse, or any healthcare professional using them, enabling continuous remote support before, during, and after surgical interventions.
Smith+Nephew partners with Rods&Cones to provide smart surgery glasses and digital remote assistance to customers.
Initially used in the UK to support the NHS and other customers, this solution allows Smith+Nephew to increase its ability to offer technical support for safe and effective use of its products at the right time from anywhere in the world. The increased complexity of surgery, advancement of technologies, and need for productivity and efficiency is enabled by ensuring a specialist is available remotely to give best possible expertise exactly when they need it, in the least disruptive way.
"I am delighted that we have agreed to partner with one of the most innovative companies in the area of remote surgical support," said Simon Tarry, Managing Director of Smith+Nephew's UKI/Nordics region. "This new partnership will enable our team to deliver the highest possible expertise exactly when our customers and patients need it. At the same time, I believe enhancing our ability to support our customers remotely serves patient safety and sustainability to great effect."
The multi-year agreement with Rods&Cones allows Smith+Nephew to scale its remote support capability for customers, enabling connectivity with specialist surgeons during minimally invasive surgery. The MIS (Minimal Invasive Surgery) Kit connects seamlessly to a secure Rods&Cones Remote Expert interface, which allows the user to follow and attend a surgery just as if standing in the OR, but with the exact view of the surgeon or other healthcare professional.
Bruno Dheedene, CEO and Founding Partner of Rods&Cones stated that:
"We are thrilled to work with such a great company as Smith+Nephew. The achievements they have made in the MedTech industry, especially within the sphere of repair, regeneration and replacement of soft and hard tissue has been awe-inspiring. This partnership between Smith+Nephew and Rods&Cones will be a great step forward and together we will change healthcare for the better."
For more information about Smith+Nephew, please visit www.smith-nephew.com and follow us on Twitter, LinkedIn, Instagram or Facebook.
Doctors Don't Know What's Happening! New Health App CAREFUL Helps Clinical Teams Reduce the Dangers of Handover 
Thousands of patients are dying every year and hospitals are wasting up to 15% of their entire budget as a result of poor handover. The UK NHS wastes at least £250m a year from delays to discharge, and the same problem is seen in hospitals throughout the world. Today, healthcare start-up CAREFUL has launched its platform to help make handover safe, save lives and speed-up patient flow in hospitals by making discharges quicker to save costs and improve care.
Handover is a critical process in healthcare when responsibility for patients transfers from one clinician or team to another. In every hospital, thousands of such handovers take place every week. Most hospitals use a combination of inefficient, informal communication systems for handover including bits of paper, sticky notes, and WhatsApp messages.
Established in 2021, Careful has been testing and building its tech platform to enable clinicians to seamlessly capture and update health data and records of patients in hospital care. CAREFUL is a digital health platform that enables visibility, accountability and collaboration as patients move through different care settings and interact with different care-givers. The platform provides hospitals, clinicians and multidisciplinary teams with a constantly updated, holistic view of every patient's plan of care to ensure their safe and frictionless movement throughout their health journey.
Research from CAREFUL* shows a quarter of all doctors and nurses worldwide use spreadsheets to record lists of patients and tasks. A clear view of the status of the hospital — and predicting future flows — is obscured. Staff don't know what's happening and nor do the patients. Even in digitally advanced hospitals, critical tasks are regularly lost or forgotten.
"All these headaches can be solved quickly and easily with CAREFUL" says Dr DJ Hamblin-Brown, Founder & CEO of the company. "CAREFUL is a simple-to-use and easy-to-implement application which helps hospitals communicate internally, and also with patients and their families".
Dr Hamblin-Brown was motivated to build CAREFUL because his mother nearly died from a simple communication failure in a UK hospital. He adds, "Although clinicians take handover very seriously, errors still occur because staff are let down by the systems they are forced to use. With desperate shortages of clinical staff, hospitals need CAREFUL to help save money and save lives."
The WHO estimates that 15% of all hospital expenditure is wasted on adverse events that happen to patients – and that 80% of these are due to poor handover. This causes serious harm to patients, sometimes with fatal outcomes. Inadequate systems leave staff over-burdened and stressed, leading to resignations and burnout. Errors also cause delays. Beds are taken up by patients who should be discharged. Once at home, the problems continue. No one knows what the next steps are and patients are often lost to follow-up. Together this costs every hospital millions every year.
Dr Johann Grunlingh, an NHS emergency medicine consultant and Intensive Care specialist in London. He and his team at Newham Hospital helped to test the application during development. He says, "Handover is a time consuming and dangerous process especially in critical care. CAREFUL fills a huge gap where Electronic Patient Record systems perform poorly. CAREFUL provides an action-focus that would benefit every care team in the NHS."
"CAREFUL can be up-and-running in any hospital, clinic, or care home in a matter of days", says Dr Hamblin-Brown. It works on mobile, tablet or desktop presenting critical information for each patient, along with task lists assigned to individuals, clarifying who needs to do what, and when. As staff change shift, and patients move through the hospital, tasks and status information move with them – even out into the community or home. As a result, patients and staff know at all times what is happening, and who is responsible.
Roohi Hamlani, CAREFUL's co-founder and Head of Patient Participation is passionate about extending CAREFUL's reach into care-homes and families, from whom patients receive the majority of their care. CAREFUL's approach was based on her work in Asia improving outcomes with collaborative care for chronic disease patients. She says better workflows are about breaking-down silos. "To provide the very best care, clinicians, families and caregivers all need to work together across boundaries. CAREFUL bridges the gaps that exist today".
CAREFUL users can send, receive and share responsibility for patient care during peer-to-peer handover, internal referrals, discharges and transfers between organisations. Patient safety is improved because nothing is lost or forgotten. Patient information is added, reviewed and updated at every transition of care to ensure a complete and continuous health story across care settings. Caregivers contribute to the story as the patient moves between community care, hospital, teams and home or back into community care. Patients are invited to access and contribute to their own record.
CAREFUL uses privacy-by-design principles and is regulatorily-compliant in UK, Europe, USA . As a cloud-based application, it is fully encrypted and protected. It is also fully interoperable using industry standard messaging – so that it can integrate with healthcare systems globally
Dr Jeffrey Staples has led large hospital and health systems across Middle East and Asia building quality and operational excellencecommented: "CAREFUL has global relevance across the private and public healthcare sectors. Hospitals find it hard to understand what is happening with patient flow in real time. Important data often stays in clinicians' pockets or just gets thrown away. In my view, CAREFUL will significantly improve clinical and operational performance."
Recently, CAREFUL published the results of a study* on clinicians' experience of handover. The findings were sobering. Errors in handover occur weekly or daily according to 12% of respondents. Nearly 10% had witnessed severe harm because of handover error.  Dr Hamblin-Brown and Ms Hamlani are clear that "We work in an industry that is failing to take seriously the dangers of handover. It is arguably the most common, and one of the most important, processes. We harm both staff and patients if we fail to address the dangers of handover."
* Based on 432 completed responses from clinicians in 26 countries via an open, anonymous and confidential online questionnaire completed in February 2022. The full research paper is here: Safety of Handover: A Global Online Survey of Clinical Practitioners and Leaders Regarding Patient Safety during Transitions of Care and summary findings from CAREFUL  can be found here: Handover is dangerous — 10 things we learned about patient safety
One of Wales' Leading Life Sciences Firms Creo Medical Says 2021 Revenues Will Exceed Market Expectations
Its share price has rallied after an upbeat trading statement ahead of publishing its results for 2021
One of Wales' leading life sciences firm, Creo Medical, has seen its share price rally after confirming that revenues for 2021 are expected to be ahead of market expectations at £25m despite the challenges of the pandemic.
The Chepstow-based and acquisitive Alternative Investment Market (AIM) listed business, which focuses on the emerging field of surgical endoscopy, said it was delivering on its 'build, buy and partner' strategy.
On the back of the upbeat trading statement, Creo Medical's share price has risen around 50p to £170p in recent days adding around £91m to its market capitalisation (£311m). However, this time last year its share price was at £2.33p.
It said it has seen a significant uplift in orders and adoption of its Speedboat Inject device in the US and Europe. Speedboat Inject offers large cost savings in lower gastrointestinal (GI) procedures versus a traditional surgical procedure as well as improved clinical outcomes.
Last year Creo raised £35m from a share issue to support its expansion plans. It also acquired Albyn Medical, a Spanish specialist in the supply of GI products to healthcare providers, for £25m.
Creo, which listed on AIM in 2016 and whose shareholders include the Development Bank of Wales, said the pipeline of doctors waiting to be trained as part of the group's clinical education programme has more than doubled from the number trained in 2020. It said it trained a significant number of leading clinicians last year, who are now product users.
It expects this number to rise in 2022. and in order to service this increased demand, Creo has increased its direct sales force by 25% since the beginning of 2021.
It has also invested in a new US headquarters with a learning centre and fully equipped training laboratory, has helped to support Creo's commercial roll-out in the key US market.
As of the end of December it had a net cash position of approximately £44m.
Chief executive Craig Gulliford said: "I am pleased to report on what has been a successful year for Creo, with strong progress against our 'build, buy, and partner' strategy. We have seen significant growth in commercial orders and adoption of Speedboat Inject in the US and Europe, the successful acquisition of Aber Electronics, as well as agreeing heads of terms with a number of third parties to provide access to our advanced energy technology.
"Particularly encouraging has been completing the transition from a distribution model in core markets to an integrated direct sales team, built from the ground up in the US and through successful integration of Albyn Medical into our European business.
Source: BusinessLive
Cutting-edge Robotic Partial Nephrectomy Demonstrated on ABHI Pavilion at Future Surgery 2021
Surgeons at Guy's Hospital will be using cutting-edge technology to perform robotic partial nephrectomy live on the ABHI Pavilion at Future Surgery Show 2021, which will see world-leading UK hospitals and clinics demonstrate their pioneering operations to around 3,000 health professionals.
Robotic partial nephrectomy (partial kidney removal) is a delicate procedure used to treat kidney cancer, while sparing as much healthy kidney tissue from damage or removal as possible. The minimally invasive approach, which can be performed using very small incisions, gives equal cancer control to that of open surgery and makes for an easier recovery after surgery.
Patients who have a small tumour in their kidney are suitable for a partial nephrectomy. During the procedure, fine articulating instruments are used to precisely remove the tumour alone and preserve the remaining kidney.
Mr Ben Challacombe, Consultant Urological Surgeon at Guy's and St Thomas', will be leading the robotic partial nephrectomy (partial kidney removal) on one of the Trust's patients at Future Surgery 2021 – the first live robotic partial nephrectomy to take place at the event. The surgeon will use the DaVinci robot to make smaller incisions to remove the part of the kidney, avoiding larger cuts and more scarring.
Mr Challacombe said: "Robotic partial kidney removal has several benefits for patients over both standard keyhole and open surgery, including less time in hospital, faster recovery times and less pain. When Surgeons use the robots, they effectively have their hands inside the patient without open surgery.
"We can perform the key part of the procedure in less time using the robot, so this reduces the time that blood flow to the kidney is stopped while the tumour is removed. Consequently, there is less damage to the kidney, keeping it functioning better after the operation, and more of the kidney can be preserved."
During a robotic procedure, surgeons control the robot's 'arms' from a console as they look down small telescopes on the end of each arm to see inside the four keyhole incisions. The machine gives them a 3D HD view while they operate, eliminates tremor and provides an increased range of movement, which leads to more precision and quicker stitching.
Guy's and St Thomas' carries out the most robotic operations in the UK with around 1,100 cases a year, using three da Vinci surgical robots. Robotic surgery is commonly used for prostate, bladder and kidney removal.
NHS England has recently endorsed robotic surgery as a new way to perform a partial nephrectomy. The team at Guy's perform around 70 cases a year and have carried out more than 300 to date.
Mr Challacombe was appointed to Guy's and St Thomas' in 2010 following his fellowship in Australia. He is the highest volume surgeon for robotic partial nephrectomy in the UK (over 600 cases) and also specialises in robotic radical prostatectomy, and robotic surgery for nephro-ureterectomy, pyeloplasty, adrenalectomy and nephrectomy, and Holmium laser prostatectomy (HoLEP). Overall, he has performed over 2,000 robotic procedures and 1,000 HoLEPS.
Paul Benton, Managing Director, International at the ABHI added: "We are delighted to be joined by Guy's and St Thomas' at Future Surgery 2021 and look forward to their cutting-edge demonstration. Our simulated surgical theatre will celebrate collaborations between healthcare providers, clinicians and healthcare technology companies, allowing visitors to watch Britain's best surgeons in action."
Taking place on the 9 – 10 November 2021 at ExCeL London, Future Surgery is being run in partnership with the Royal College of Surgeons of England and features over 100 expert speakers – covering all that is new in the field of surgery.
Throughout the show 'ABHI's 'Surgical Simulation Theatre' will be replicating a fully working operating theatre. All live simulation sessions throughout the two-day event will be livestreamed through the virtual UK Healthcare Pavilion.
The cutting-edge 'Live robotic partial nephrectomy' session, led by Mr Ben Challacombe, will take place on 10 November, 10.25 – 11.15.
Improve Performance in the Operating Theatre with Incision Assist
Incision, a platform for improving surgical performance and online training, is thrilled to announce the launch of Incision Assist — a Companion App designed to improve team performance in the operating theatre. The product was launched at Intelligent Health, the world's leading AI in medicine summit, and aims to solve one of the biggest challenges in the Operating Theatre today: having all critical information that you need to perform directly at your fingertips, precisely when you need it. The Incision Assist Companion App is now available to download.
In a typical hospital, much of the information needed to perform daily tasks can be found in unit- or area-specific protocols. However, protocols quickly become outdated and are not easily accessed by everyone, as they are usually stored somewhere on a H: drive and are only accessible from certain locations.
The large volume of information operating theatre teams require to function (preferences of individual surgeons, procedure-specific draping methods, what materials are required, etc.) impacts the combined "cognitive load" placed on the team: a term used to describe the amount of information the working memory can hold at any one time and the impact this has on performance.

Remembering all this information is especially hard in the dynamic and often stressful environment of the operating theatre , leading to problems like delays, frustration, errors and increased risk of complications. Provider error has been shown to contribute to a significant proportion of preventable complications in hospitalized surgical patients.
Are hospitals reaching target performance levels in the operating theatre?
Structured performance management is frequently lacking or non-existent in the operating theatre. Incision Assist aims to solve this problem and remove some of the roadblocks to accurate and reliable performance measurement and quality improvement.

Four major Dutch hospitals will act as innovation partners and will be among the first to work with Incision Assist: Medisch Spectrum Twente (MST), Leiden University Medical Centre (LUMC), Amsterdam University Medical Center, and IJsselland Ziekenhuis (YSL). The Companion App allows team members to give feedback on protocols, helping the respective teams to make small improvements each working day.
Laurens van Houte, OR Manager, MST
"At MST, we aim to remove redundancy from our processes and start each day better organized — with the [operating theatre] team completely aligned. Our goal is efficient information management. We hope this is going to help us reduce the administrative burden so we can focus even more on what's most important: our patients."


 Marc Besselink, Professor of Pancreatic and Hepatobiliary (HPB) surgery, Amsterdam UMC

"Incision Assist offers the opportunity to actively participate in the training of surgeons, scrub nurses, nurse anesthetists, etc. A well-prepared operating room represents a job already half done. I look forward to working on this project both directly at the Amsterdam UMC and within the framework of the European Minimally Invasive Pancreatic Surgery (E-MIPS), a registry specifically designed to monitor safety outcomes and aid with future research projects."

Optimize team performance in the Operating Theatre
Incision Assist lets you easily document and manage all protocols with the Assist Content Management System. The content is then automatically populated into the Assist Companion App. As a result, the entire team can easily find what they're looking for in order to align and prepare for a day in the operating theatre.
Raimo van der Klein, CTO, Incision
"The strength of Incision Assist is that it makes complex information accessible to the [operating theatre] team. It does this in a highly specific and intuitive way, showing what is relevant for a specific procedure combined with a specific surgeon. This is a really big upgrade in how protocol data is hosted, indexed, and distributed."

Johan Thelen, OR Manager, YSL
'With Incision Assist, we expect a significant reduction in wasted materials and time. By combining protocol data with the individual specifications for each patient, we aim to reduce the time that teams need to prepare patients for the [operating theatre]. Team preparation is coordinated through visualization of this data, allowing an easy rollout and intuitive workflow. This should benefit the work atmosphere and offer a safe learning and working environment."
Medical device companies Mölnlycke and Stryker will collaborate with Incision to deliver content for the surgical equipment and materials section of the app. Data analytics partner NewCompliance will create the infrastructure so that the information can be displayed on several screens in the operating theatre.
Ritsaart van Montfrans, CEO, Incision
"We can all agree on this: hospitals want to achieve the best clinical outcomes delivered in the most efficient way. Unfortunately, this situation is not the reality today; there are big variations in surgical outcomes and structured performance management is largely lacking in the [operating theatre]. Incision is proud to be working together with hospitals, medical device companies, and data analytics partners, to best solve this problem. Our goal is to have informed, aligned, and confident [operating theatre] teams, running on processes that are less siloed, less laborious, and less error-prone so that we can improve efficiency and performance in the [operating theatre], together."
A new chapter for Incision
With its recent expansion into the UK, Sweden, Belgium, and the Middle East, Incision is growing fast. Incision is well known for innovative and internationally accredited e-learning and, with the launch of Incision Assist, the company is starting an exciting new chapter.
About Incision
Incision is a fast-growing platform for improving surgical performance and online training, founded in Amsterdam by Prof. Theo Wiggers and a number of other entrepreneurial professionals — with the mission to improve surgical care. Its team believes strongly in sharing surgical skills and making high-quality surgical knowledge accessible to everyone. On May 27 this year, Incision received €5M funding from SHS and Rubio Impact Ventures.
Welsh MedTech Innovation Revolutionising Cancer Care Announced as One of Three Finalists for Most Prestigious UK Engineering Award
Creo Medical, the company behind an innovative and disruptive new suite of advanced energy, minimally invasive electrosurgical devices, has been named as one of three companies shortlisted for the 2021 MacRobert Award.
The Chepstow based business designs and manufactures highly advanced miniaturised surgical tools that uniquely integrate radio frequency and high frequency microwave energy for highly targeted, minimally invasive endoscopic surgery, dramatically improving patient outcomes for cancer care, while minimising the need for traditional surgical interventions, moving treatment out of the operating room.
Founded in 1969, the MacRobert Award is overseen by the Royal Academy of Engineering and is the UK's longest running engineering prize. It endorses engineering achievements that demonstrate outstanding innovation, tangible societal benefit and proven commercial success.
The winning team will receive the signature MacRobert Award gold medal and a £50,000 cash prize, joining the pioneers behind innovations such as the Harrier Jump Jet, the Raspberry Pi micro-computer and the CT scanner.
2021 finalists for the Royal Academy of Engineering MacRobert Award are world-leading UK engineering innovations that could help us all live healthier, more sustainable lives.
MedTech innovation revolutionising cancer care
The core of the technology is the creation of an advanced energy platform, delivering power to a range of flexible devices that transform traditional diagnostic instruments such as endoscopes, to technologies that physicians can use to not only navigate to tumours for diagnosis, but to then perform highly precise clinical treatment either non or minimally invasively.
There are around 367,000 new cancer cases in the UK, and almost half of cancers are diagnosed at a late stage in England. But Creo Medical's innovations promise significant medical and health benefits. It ensures that cancer patients can be treated earlier, with better outcomes due to the quality and precision of its engineering innovation. It also significantly lowers costs, reducing the cost of care by up to £10,000 per procedure in NHS Hospitals, a 50% saving on traditional surgery.
In 2020, the company successfully CE marked five new devices and its devices are now being used across Europe, UK, the United States and Asia.
The MacRobert Award judges were impressed with the quality of the precision engineering, medical instruments and integration with advanced energy solutions. They also identified the future applications of the product within the robotic surgery market and potential ability to operate on areas of the body that are currently hard to reach, as demonstrating the truly transformative potential of the innovation.
Creo Medical has been selected as a finalist for the MacRobert Award alongside two other engineering innovations developed in the UK, that also promise significant medical and health benefits:
DnaNudge for its pioneering genetic testing technology that enables consumers to shop more healthily – nudged by their DNA plus lifestyle. Following a simple cheek swab, DnaNudge's NudgeBox analyser maps the user's genetic profile to key nutrition-related health traits such as obesity, diabetes, hypertension and cholesterol. Customers can then use their wearable DnaBand and mobile app to scan products while they shop and be guided by their DNA towards healthier choices. The technology has been rapidly adapted into a gold-standard, 90-minute lab-free RT-PCR test for COVID-19 and is now in use in NHS hospitals, care homes, and supporting the return of the arts sector.
PragmatIC Semiconductor for its electronic engineering innovation that takes the silicon out of silicon chips, resulting in ultra-low-cost thin and flexible integrated circuits. These can be inexpensively embedded in everyday objects from food and drink packaging to medical consumables, a crucial step in achieving the Internet of Things and addressing a range of application sectors including the circular economy and digital healthcare. The technology reduces manufacturing cycle time from months to less than a day, allowing agile "just in time" production of microchips, avoiding the risks and waste of global supply chains. In addition, traditional silicon chip fabrication methods have enormous carbon and water footprints, while the PragmatIC approach reduces this by more than 100-fold.
From more accurate diagnosis of cancer, to pharmaceutical production, each of these groundbreaking engineering achievements reflect the UK's global leadership in medical engineering.
The winner will be announced in July, with the winning team set to receive the signature MacRobert Award gold medal and a £50,000 cash prize.
Now in its 52nd year, MacRobert Award winning innovations have changed the world, delivering enormous economic and societal benefits and contributing to the UK's standing as a global leader in life sciences.
Craig Gulliford, CEO, Creo Medical said:
"To be nominated for the UK's most prestigious engineering award is a tremendous honour for the Creo Medical team, and highlights our passion to improve healthcare and save lives. Our shortlisting tops off what has been a milestone year for the team, bringing a truly novel and innovative medical device to the market, and showcasing the potential of UK innovation."
MacRobert Award winners are chosen by an expert panel of Royal Academy Fellows, who have vast experience across engineering industry and academia. The Creo Medical finalist team includes:
Craig Gulliford, CEO
Steve Morris, former COO
Chris Hancock, CTO & Founder
Dr Nuwan Dharmasiri, Principal RF and Microwave Engineer
Sandra Swain, Principal Engineer.
MacRobert Award judge Professor Sir Saeed Zahedi OBE RDI FREng, said: "The team at Creo Medical are a prime example of the UK's ability to lead the MedTech industry. Their cutting edge technology is hugely impressive and an extremely important innovation that truly has the ability to revolutionise cancer treatment and patient experience across the world. Their work benefits the local community in terms of high tech sustainable design, development, manufacturing and assembly of precision engineering that will directly benefit the NHS for many generations to come. It will also help the UK export market, creating revenue and enabling future robotic surgery."
Professor Sir Richard Friend FREng FRS, Chair of the Royal Academy of Engineering MacRobert Award judging panel, said:
"The UK is a global leader in engineering and technology, as evidenced by its proactive role in tackling the pandemic, from ventilators to vaccine production. After such a year it is no surprise to find medical engineering strongly represented across the finalists for this year's MacRobert Award for engineering innovation. As we look to build back better for the future, the inspiring achievements of our finalists offer the potential for all of us to have more control over our health and lifestyle.
"These three companies represent the very best of engineering innovation, offering new ways to apply leading edge technologies in our daily lives. Whether using our own genetics to guide us on making healthier food choices through DnaNudge, reaping the benefits of products connected seamlessly thanks to PragmatIC's flexible electronics or receiving more precise cancer treatment developed by Creo Medical, these developments offer huge potential advantages for the future."
Place Your News Item Here. Contact our Advertising Team on 02921 680068 to discuss the applicable fees.
June Medical Honoured with Prestigious Queen's Award for Enterprise
June Medical is one of 48 organisations to be recognised for their excellence in innovation in this year's Queen's Awards for Enterprise. Now in its 55th year, the Queen's Awards for Enterprise are the most prestigious business awards in the country – rewarding only the most outstanding achievements – with winning businesses able to use the esteemed Queen's Awards emblem for the next five years.
June Medical is a medical device company with a global reach, and already has multiple highly regarded accolades already to its name. Based in High Wycombe, UK, it continues to lead from the front by delivering medical innovations to address unmet surgical needs – adding lasting value to the medical community. The company's Galaxy II single-use surgical retractor reduces the need for extra staff during surgery, and lowers the risk of patient-to-patient cross-contamination. The ground-breaking product has been well received by surgeons across the UK and internationally, and its widespread success has earned June Medical this prestigious award.
Angela Spang, CEO and founder of June Medical, pioneered the Galaxy II range and is delighted with the honour the company has received. She commented: "This award is the result of all the hard work from everyone in the team. Our vision is to positively impact patients' lives by making surgery easier for the surgeons and nurses, and safer for every patient. Being recognised today for our work will help the company continue this quest."
Read more on The Queen's Awards for Enterprise here
To find out more about JUNE Medical, visit junemedical.com
Study Investigates the Impact of Automating Respiration Rate Measurement Using Masimo Rad-G™ with RRp®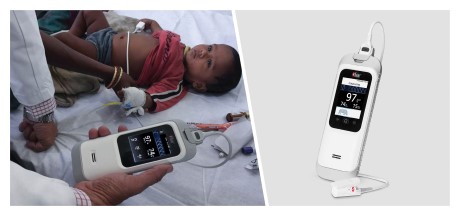 Masimo recently announced the results of a prospective, observational study published in Acta Paediatrica in which researchers from the Hospital for Sick Children in Toronto evaluated the accuracy of plethysmographic respiration rate measurement (RRp®) using Masimo Rad-G™, a rugged, handheld device, on malnourished, hospitalized children in Nigeria.
Noting that in resource-limited environments, respiration rate (RR) measurement is often used to directly inform medical decisions for children with respiratory problems, but that manual RR counting "remains a challenge," Dr. Nancy Dale and colleagues investigated whether a technological solution might provide a useful alternative to manual counting. To make the evaluation, the researchers compared simultaneous device measurements and nurse-measured manual RR counts on malnourished children. The device chosen was the Masimo Rad-G, which uses a pulse oximetry sensor to measure both oxygen saturation and RRp, and which has been shown to provide good agreement between RRp and pediatrician-measured RR. They enrolled 514 children, aged 6 to 59 months, who were hospitalized between July 2019 and May 2020, in Borno State, Nigeria. Study nurses were trained to operate Rad-G and also perform manual RR counts as part of twice-daily patient assessment. RR was manually counted for 60 seconds while Rad-G simultaneously measured RRp via a sensor attached to the patient's toe, and both measurements were recorded.
Analyzing the 6,889 paired RR measurements, the researchers found that the mean Rad-G RRp reading was 1.3 bpm (95% confidence interval 1.2 – 1.4 bpm) higher than the mean manual RR value. The mean absolute difference between the two methods was 4.4 bpm (95% CI 4.3 – 4.5 bpm). When RR was classified as either "normal" or "fast" breathing (using WHO pneumonia thresholds), the two methods resulted in the same classification 84% of the time. When RR was classified according to BedsidePEWS RR sub-scoring (a 4-point scale), 80% of the scores were the same, and 99.3% were within 1 point.
The researchers concluded that their findings "highlight the potential clinical impact of changing practice from manual to automated RR count. Clinical implementation of the device should be carefully monitored to measure impact on patient outcomes."
Study co-author Dr. Stanley Zlotkin commented, "Technical solutions to improve clinical care are laudable. We look forward to continuing this research."
RRp is one of multiple RR monitoring modalities offered by Masimo, which also include acoustic respiration rate (RRa®) and NomoLine® capnography (RRc™), helping clinicians ensure they have the most suitable tool for each patient scenario.
First developed in partnership with The Bill & Melinda Gates Foundation, Rad-G is a rugged, handheld device that provides clinically proven Masimo SET® pulse oximetry, respiration rate (RRp), and other important parameters. With its long-lasting rechargeable battery, robust rubber casing, and light weight, Rad-G makes it easier for clinicians to quickly assess patients and make informed care decisions anywhere pulse oximetry or vital signs checking is needed in a compact, portable form factor. Coupled with the universal Mini-Clip™ pulse oximeter sensor to provide the ultimate in handheld versatility, Rad-G can be used in a variety of settings, including limited-resource environments, both indoors and in the field.
In the U.S., RRp is 510(k) cleared for patients greater than two years old.