Medtronic Launches New Pediatric Monitor that Alerts Clinicians to Potential Airway Obstructions During Ventilation
SonarMed™ Airway Monitoring System Continuously Checks for Endotracheal Tube Obstruction and Position for Neonates and Infants Providing Immediate, Actionable Intelligence for Clinicians
---
Medtronic plc (NYSE:MDT), the global leader in medical technology, recently announced the U.S. commercial launch of the SonarMed™ airway monitoring system. The first and only device of its kind, the SonarMed airway monitoring system utilizes acoustic technology to check for endotracheal tube (ETT) obstruction and verify position in real-time, giving clinicians vital information required to make more informed, life-saving decisions for their smallest patients.
Globally, 415,000 neonates and infants require invasive mechanical ventilation per year and are intubated for greater than 24 hours. Despite recommendations and reduction efforts, 75,000, or about one in five, of these neonates and infants will experience at least one unplanned extubation (UE). In the NICU, UEs are a significant safety concern for neonates and newborns and are the most common adverse event during mechanical ventilation.1 These events can lead to increased length of stay and hospital costs.2 Adoption of the SonarMed airway monitoring system can help reduce the frequency of these events, which in turn can help improve outcomes and reduce healthcare costs.
"The SonarMed airway monitoring device has revolutionized the way we care for our littlest patients. There is no other device in the world that can tell you where the endotracheal tube is located within the airway continuously in real-time, and whether the tube is obstructed or even partially occluded," said Jamie W. Powers, M.D., MBA, neonatologist at Huntington Hospital in Pasadena, California. "At our hospital, this information has led to a drastic reduction in the number of x-rays performed and marked improvement in the effective suctioning of the airway. It also provides the care team and parents the added reassurance that the breathing tube is where it needs to be while repositioning the patient and during kangaroo care. In our institution it has become the new standard of care for all intubated infants."
The SonarMed airway monitoring system is the first and only FDA-cleared airway monitoring system that provides timely notifications and specific measurements that help enable a coordinated response to address potentially critical events such as ETT movement and migration.
"Clinicians face unique challenges in the neonatal intensive care unit (NICU) and pediatric intensive care unit (PICU) daily, ranging from managing oxygenation within extremely tight ranges, to keeping family members informed and comforted. With our innovative technology, this fragile patient group is continuously monitored with a real-time and accurate device that may help improve a clinician's ability to manage the airway and enhance outcomes for our smallest, most vulnerable critical care patients," said Ariel MacTavish, president of the Respiratory Interventions business, which is part of the Medical Surgical Portfolio at Medtronic. "Our goal with introducing the SonarMed technology is to help solve a clinical need to reduce the number of unplanned extubations to help these vulnerable patients start their lives in the healthiest way."
SonarMed, which was acquired by Medtronic in December 2020, specializes in developing solutions that increase patient safety while significantly decreasing healthcare costs.
"With Medtronic's extensive market presence, clinical leadership, and market development expertise, coupled with SonarMed's innovative technology, we are confident that together, we can potentially help save the lives of thousands of infants," said Tom Bumgardner, strategic planning program director, Medtronic Respiratory Interventions, and former SonarMed CEO.
For additional information about the SonarMed airway monitoring system, please visit: medtronic.com/sonarmed.
Any forward-looking statements are subject to risks and uncertainties such as those described in Medtronic's periodic reports on file with the Securities and Exchange Commission. Actual results may differ materially from anticipated results.
The SonarMed Airway Monitoring System should not be used as the sole basis for diagnosis or therapy and is intended only as an adjunct in patient assessment.
1 The Adverse Impact of Unplanned Extubation in a Cohort of Critically Ill Neonates. 2019. KK Kambestad, A Huack, S Nair, R Chapman, S Chin, L Langga, E Mounger, E Guerrero, NP Iyer. 10.4187/respcare.06721. Respiratory Care.
2 Roddy DJ, Spaeder MC, Pastor W, Stockwell DC, Klugman D. Unplanned Extubations in Children: Impact on Hospital Cost and Length of Stay. Pediatr Crit Care Med . 2015;16(6):572-575. doi:10.1097/PCC.
Source: Medtronic plc
Place Your News Item Here. Contact our Advertising Team on 02921 680068 to discuss the applicable fees.
Unique Indoor Way-finder Launched at Chelsea & Westminster Hospital NHS Foundation Trust - Improving Patient Experience and Operational Efficiency
BuzzStreets and Chelsea & Westminster Hospital NHS Foundation Trust are launching a unique indoor way-finder for hospitals to help patients and their families navigate their way around more easily, reduce staff time spent giving directions, help ensure patients arrive on time for appointments, reduce stress, and minimise traffic in the corridors.
Research has shown that 87% of patients ask for directions when they go to a hospital or other public health facility, and 30% of first-time visitors get lost (Source: Deloitte Digital).
The new app is part of the CW Innovation programme – a joint initiative between Chelsea and Westminster Hospital NHS Foundation Trust and its charity CW+ – to 'test and scale' innovations and digital systems that improve patient care and experience.
After a successful trial, the new system created by BuzzStreets, allows visitors to Chelsea & Westminster Hospital in London to navigate their way from outside all the way to the specific location they need, whether that's a bed on a ward, a consulting room, the café, or the pharmacy. The app includes Points of Interest such as offices, cafeterias and, uniquely, more information about the Trust's collection of over 2,000 works of art and digital installations that transform the hospital environment for patients, families, volunteers and staff.
The app uses a system of BLE Beacons, Wi-Fi signals, and the Earth's magnetic field to pinpoint the person's location, giving them real-time directions, both spoken and visual, to allow them to navigate through the hospital, both horizontally and vertically.
When the person arrives at the hospital, they open the app and key in the location they want. The app then calculates a route from their current location to the point in the hospital they need. It shows a map of the hospital and their route is clearly marked. Just like traditional car sat-nav systems they then press 'start' and the app visually shows them where to head and audibly advises them.
As they progress along the route the app constantly updates showing them where they are and giving them regular voice and visual updates to show them where and when to turn, go straight-on, or change floors. It will also let the person know when they have arrived at their destination. However, unlike car sat-nav the system is accurate to 1-2metres as the 'sensors' are within the hospital (not 12,000 miles away in space).
"The pilot project has already shown that the app reduces frustration for staff and visitors alike. It helps reduce the anxiety of patients and visitors trying to find their way in the hospital, which previously required contact with multiple different staff. Overall, we've seen that the app helps save resources, improve patient outcomes, and enhances the entire hospital experience for patients and their families," explains Vanessa Sloane, Deputy Chief Nurse at Chelsea and Westminster Hospital NHS Foundation Trust.
The app also allows Personalised Navigation Services, for example allowing people with disabilities to receive navigation instructions that suit their needs. This may mean directing them to lifts rather than staircases, for example.
"The BuzzStreets system brings outdoor navigation inside. And as one of London's biggest and busiest hospitals, Chelsea and Westminster Hospital has been the perfect pilot location. It's a complex building with over 6000 visitors every day – all with different needs, at different times, with different end locations. We've developed the app to tackle the common problems relating to visitors getting lost and staff spending time giving directions to save the NHS both time and money," says Joe Fernandez, CEO of BuzzStreets.
For more information see: www.buzzstreets.com and www.cwplus.org.uk/our-work/cw-innovation/
Leading Medical Device Developer Celebrates 15 Year Anniversary
Wideblue celebrated 15 years of success in April 2021. The multi-award winning firm was created on 01 March 2006 with a management-buy-out of Polaroid's European Research and Design Centre, and is now regarded as one of the UK's leading independent product design firms.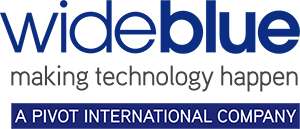 CEO, Russell Overend, explains: "Celebrating our 15th year anniversary is a huge milestone, and we have certainly seen big changes since the management-buy-out created Wideblue in 2006. Highlights include winning our first Innovate UK project in 2013, winning European Product Design awards in both 2017 and 2019, and Pivot International acquiring a majority stake in 2018 enabling us to add global manufacturing and supply chain to our scope.
"I'm delighted to say 15 years later Wideblue still has a healthy mix of experienced engineers from the original Polaroid days, through to talented new scientists and engineers. The multi-disciplinary team has a wealth of experience designing new products ready for manufacturing with a range of trusted worldwide suppliers. Through the Pivot International organisation Wideblue can design new products with access to the latest components, technologies and manufacturing in UK, EU, USA, Mexico, China, Taiwan and Philippines."
"The last year has been a challenge for all of us, but for Wideblue it has presented many new opportunities and has resulted in us expanding our team to 22 to meet the demand for Covid-19 response medical products. We are currently adding a new medical and optical clean room, manufacturing, test and development space, which is being used for small volume start up production for clinical trials and launch quantities."
Overend adds: "We are currently working on new medical devices, consumer products, industrial products, quantum technology, instrumentation, renewables instrumentation, and security with clients in UK, Belgium, Portugal, Spain, USA, and Canada."
Since 2006 Wideblue has been delivering hundreds of projects for a variety of organisations from start-ups and university spin-outs to multinational corporations. The company is frequently engaged in collaborative projects working with some of Europe's leading research organisations and universities, especially in the areas of imaging, optoelectronics and bio-medical engineering. The skill set in-house ranges from physics, optics, electronics and software through to mechanical engineering, prototyping, manufacture and supply chain management.
For further information about Wideblue please visit www.wide-blue.com