Southend Business Which Has Repaired Over 5,500 Instruments this Year is Honoured at Parliamentary Reception
A Southend-on-Sea company, who has this year repaired over 5,500 surgical instruments helping the NHS to be more sustainable, has been honoured at a Parliamentary Reception.
Surgical Holdings, a family run manufacturer and repairer of surgical instruments with a focus on sustainability, was invited to the House of Commons following their nomination for an 'Innovation in HealthTech: Recognising Excellence" award.
The prestigious campaign is being run by UK trade association the Association of British HealthTech Industries (ABHI) to acknowledge the excellence HealthTech innovation is playing across the country.
It recognises companies like Surgical Holdings for their efforts in driving improvements through innovative partnerships, ultimately leading to better outcomes for patients and the NHS.
Surgical Holdings offers hospitals a unique surgical repair and maintenance service developed to ensure the longevity and performance of surgical products. The one-of-a-kind service transforms broken, damaged, and worn instruments to an 'as new' condition and also aims to tackle global steel wastage and contribute to a more sustainable future.
The intricate repair service includes re-grinding, honing, re-setting, welding, polishing, and nitric acid passivation. The repairs are all carried out in the company's state-of-the-art workshop in Southend by a team of highly skilled and experienced technicians, many of whom have decades of experience within the industry.
Dan Coole, Managing Director at Surgical Holdings, said: "Our nomination is a testament to our commitment to deliver an integrated circular economy solution. At Surgical Holdings, we are dedicated to assisting NHS hospitals in reducing their carbon footprint by actively promoting the repair and refurbishment of surgical instruments and other medical devices."
The company have introduced a repairs portal for NHS and private hospital staff that allows hospitals to track the whole repair process from start to finish in real time.
The company also offer clinicians a CPD accredited education on proper equipment handling and potential misuse to ensure patient safety.
Sir James Duddridge KCMG, MP for Rochford & Southend East, said:"It was great to catch up with Surgical Holdings in Westminster, where their work was nominated for the 'Innovation in HealthTech: Recognising Excellence award. I have been telling Will Quince MP, Minister of State for Health and Secondary Care, about the established and new work of the company and the role med-tech plays in Southend and Rochford, and he was impressed to hear this first-hand from the team. With Surgical Holding's thirty-fifth birthday coming up in September, I look forward to my next visit joining the celebrations alongside them!"
Founded in 1988, Surgical Holdings is a trusted family-run business with thirty-five years' experience.
The company's passion for finely crafted surgical instruments started four generations ago by George Poole, who created his own business making finely crafted surgical instruments back in 1910.
George's commitment to excellence was passed down through generations, resulting in the creation of Surgical Holdings.
Today Philip Coole remains as Chairman, with his son Daniel as Managing Director – a role he took in 1995 after an apprenticeship. Today the company is working in partnership with East Essex College to run an active apprenticeship scheme to ensure the skills and expertise is passed down to the next generation.
For more information  www.surgicalholdings.co.uk
Surgical Holdings Welcomes Publication of 'Green Theatre Checklist' to Reduce Carbon Footprint of surgery
Surgical Holdings has welcomed the publication of the Green Theatre Checklist ahead of their attendance at the Operating Theatres Conference in Manchester.
The compendium – produced by the Royal Surgical Colleges' – intends to support members of the surgical team to apply the principles of sustainable quality improvement in healthcare.
It includes a set of guidelines and policies that can act as interventions to support members of the surgical team to introduce changes in the operating theatre, to help reduce the carbon footprint of surgery.
Several of these are aligned with Surgical Holdings' offer for a circular economy solution that addresses all issues raised in cost, reuse, CO2 reduction and safety of surgical instrumentation.
For instance, single-use equipment is a major hotspot in surgical operations, with consumables typically contributing 32% of carbon emissions. The checklist advises that there is no evidence of superior quality or safety with single-use equipment – and that, by swapping for reusable equivalents, significant environmental savings can be easily found. Independent testing has proven Surgical Holdings Reusable Scissors to not lose sharpness after 5000 usage cycles.
The guideline also supports the repair of reusable surgical instruments as another vital step to reduce the carbon footprint of operations. Rizan et al (2022) recently concluded that repair can reduce both cost and the Environment impact of surgery.
Surgical Holdings repairs over 14,500 medical devices per year along with rigid endoscopes, air tools, electric handpieces, laparoscopic and electrosurgery devices – all carried out in-house to strict quality standards.
The award-winning British manufacturer has also developed a range of high-quality reusable instruments, incorporating their exclusive Duo Surface Finish, designed for longevity in performance and corrosion resistance, serviced in-house by a team of experienced and specialist technicians, helping to actively promote recycling, reselling, repurposing, repair, refurbishment, and remanufacturing of stainless-steel products.
Dan Coole, Managing Director of Surgical Holdings, said "Surgical Holdings welcomes the publication of the Intercollegiate Green Theatre Checklist, which presents a huge step in supporting theatre teams to cut their carbon footprint. We are excited to be joining this year Operating Theatres Conference to showcase how, by opting to repair instruments over replace, we can support hospitals to take the best approach for global sustainability and achieve huge savings.""
Healthcare services globally have a large carbon footprint, accounting for over 4% of total carbon emissions.[1] Surgery is responsible for a large portion of these emissions, with a typical single operation estimated to generate between 150-170kgCO2e, equivalent to driving 450 miles in an average petrol car.[2]
The 'Intercollegiate Green Theatre Checklist' recognises the importance to act collectively to tackle this challenge.
Studies show that it is possible to reduce the carbon footprint of surgery through improving energy-efficiency of theatres, for example by using reusable or reprocessed surgical devices.[3]
Dan adds: "In the UK, medical equipment contributes 10% of the NHS carbon footprint. Reusable versions of equipment will, in almost every circumstance, reduce carbon footprint. The solution we have developed is to extend our UK manufacture of reusable instruments and develop a unique repair and refurbishment service. Alongside this, we utilise our technicians to not only assist in the manufacture of the devices, but if we manufacture sets of instruments, we also offer a scheduled maintenance to ensure the instruments can be maintained for potentially 20-30 years."
Surgical Holdings delivers a high-end repair service from its state-of-the-art workshop facility in the City of Southend, with all repairs carried out in-house by a team of highly skilled and experienced technicians. For hospitals, this ensures a quick, quality controlled and cost-efficient service, without the costs and delays associated with shipping products overseas.
The service covers a range of surgical instruments, including rigid endoscopes and orthopaedic power tools.
Visit Surgical Holdings at the 7th Operating Theatres Conference taking place on the 7th February 2023.
For more information visit https://www.surgicalholdings.co.uk/
Inovus Medical unveils Digital Surgery Platform, Totum®
Inovus Medical has unveiled its next-generation Digital Surgery Platform on the opening day of the American College of Surgeons (ACS) Annual Scientific Congress, in San Diego California.
Known as Totum®, the platform is already accredited by The Royal College of Surgeons England, and will initially focus on delivering a connected surgical training ecosystem via the company's growing portfolio of award winning, high fidelity surgical simulators.
Totum® was created to connect surgeons by integrating mobile, native and web applications. The platform offers the most comprehensive single feature set of any digital surgery solution currently available in this rapidly growing market. Core features include a surgical procedural recording and review function, remote certification and credentialling, and the presentation of objective surgical performance metrics generated by novel instrument tracking algorithms.
Developed to accommodate wide-ranging interoperability via an open API and SDK framework, Inovus describes Totum® as a 'scalable, modular platform'. The framework allows the Totum® feature set to be applied across a range of devices, and this has already been achieved for the company's own market-leading minimally invasive surgical simulators – LapAR® and HystAR™. Totum®'s interoperability will be demonstrated across multiple devices throughout the ACS congress.
A mobile-based Totum® app will also be showcased working in conjunction with the company's proven basic surgical skills platform. The aim is to highlight Totum® 's ability to enable 'purposeful practice' through supporting and tracking open procedure skills.
Dr Elliot Street, Co-founder and CEO said, "Our mission is to become the world's partner for surgical training. The 'open to all' approach we have taken to the development of Totum® is our prime driver in achieving this mission. To deliver on this commitment we must ensure our technologies can be accessed by surgeons all over the world, at every stage in the surgical training and care continuum. Our scalable, modular platform mindset ensures Totum® is device-agnostic, so it can be easily deployed across many devices used in surgical training and the delivery of surgical care."
A recent rigorous assessment of Totum® by the Royal College of Surgeons of England has awarded accreditation to the platform for an initial three-year period. The accreditation allows individuals engaged in surgical training powered by Totum® to earn CPD points for their time spent training.
Jordan Van Flute, Co-Founder and CTO of Inovus said, "I am truly proud of what the team has achieved over the past 18 months as we set about re architecting our approach to digital surgery. We have engineered an application capable of handling vast amounts of data and video footage. Our API's, microservices and SDK's have been built such that they can be made available for use by the wider medical device community. Totum® will allow surgeons to maintain a digital record of every procedure they have ever performed, accompanying them from the moment they first pick up a tool during a simulated procedure through to operating in theatre. This was made possible by a team of highly skilled engineers that will no doubt continue to be influential in the field of digital surgery for years to come."
Bender Install State-of-the-art Theatres at Merlin Park Hospital in Galway
Two new elective orthopaedic theatres at Merlin Park University Hospital in Galway have been equipped with Bender state-of-the-art operating theatre equipment, advanced medical IT power systems, and residual current monitoring devices for ultimate resilience and safety.
Construction of the new €10.57 theatre building in the grounds of Merlin Park hospital began in March 2021 and was handed over in April 2022.
Varming Consulting engineers acted as M&E Designers and M&E Ancillary design certifiers under BCAR.
Following a successful tender process, the electrical installation package was awarded and completed by Limerick-based, H&F Electrical. For the critical power and theatre clinical package, H&F Electrical secured the services of Bender Ireland. H&F Project Manager Chris McBrearty said: "We have used Bender several times on medical projects and their knowledge, expertise and professionalism made awarding this project to Bender an easy choice to allow H&F to deliver an extremely high standard of work for our client."
The development by HSE West Saolta University Health Care Group comprises the 620m² theatre building, recovery suite, ancillary accommodation and plant facilities to support the two theatre suites.
Both theatres are equipped with Merivaara Q-Flow™ LED surgical lights and monitor arms, offering best in class illumination, colour rendering and anti-shadow technology. Q-Flow™ operating lights incorporate space between the inner and outer part of the light to allow air to pass through the light, reducing air turbulence and optimising clean airflow. This is vital for orthopaedic surgery to reduce the risk of infection.
The lights incorporate 4K cameras linked to 55-inch monitors mounted on hydraulic arms, and each theatre has dual 42inch vertical customised Bender PACS displays for viewing patient scans, x-rays and other medical data.
Bender's unique glass CP9 touchscreen theatre control panels provide control and monitoring of the operating room equipment through a central location. Each 24-inch CP9 provides the alarm status of ventilation, surgical and room lighting and monitors medical IT power provision for the facilities. This includes a schematic display for the two operating theatres that can pinpoint the location of any electrical faults and power issues, and remote monitoring of the medical IT power (IPS) and uninterruptible power (UPS) installations within the building.
Utilising the CP915 (15" touchscreen) located outside the theatre door, Bender have developed a clinical information portal that allows staff to view the status of the theatre before entry, whilst displaying the in-use status of the room and warning about x-ray and laser activity in-theatre.
Within the recovery area, an additional CP915 alarm panel operates at the nurse station to display a complete architectural layout of the five bed-bays in the recovery suite. It continually monitors non-critical power systems, lighting and other infrastructure using Bender residual current monitoring technology (RCM) and displays alarms that clinical and technical staff can easily understand and respond to.
RCM identifies potential issues with all TN (grounded) electrical systems at a pre-critical stage and enables predictive and preventive maintenance, avoiding power outages. Power quality measuring devices (PQM) provide data to effectively manage power usage, cut energy costs and reduce the carbon footprint of medical facilities.
Bender medical IT systems deliver no-fail power supplies to the operating theatres and incorporate ATICS auto-changeover technology with a second source of power supply to the operating rooms. ATICS is purpose-designed for medical applications with patient safety at the core of its development. The system assures total resilience for the medical IT systems and 2 x 60KVA UPS with full HTM compliant battery backup systems.
RCM and PQM devices deliver extensive data on the TN network, and along with all of the medical IPS and UPS equipment are connected to Bender's POWERSCOUT® reporting software. That provides real-time remote monitoring and gives hospital engineers an accurate representation of the electrical infrastructure. POWERSCOUT® enables facilities managers to track and manage energy use more effectively and analyse power system performance from different areas of the facility. Importantly, the automated report on residual current and power quality forms the basis for verifying the integrity of the system without switch-off, which negates the burden of periodic inspection and testing.
Chris Simmons, Country Manager for Bender Ireland, explains: "The installation at Merlin Park is instrumental in continuously developing capability for assisting healthcare projects in Ireland. Bender Ireland is now one of the few companies with the knowledge and expertise to supply and deliver a full turnkey theatre package, and this project has been fully delivered by our local experts in Ireland.
"Merlin Park represents the next step for operating theatre technology and the highest level resilient power in medical facilities. Clinical staff can access the latest technology and record and stream operations in real-time. Advanced touch screen panels provide intuitive fingertip theatre control, and access to patient scans and data will ensure optimum efficiency and patient safety in the new facilities."
Gareth Brunton, Managing Director of Bender UK adds: "This project represents the total capability that Bender offers to hospitals. Not only does it include power and operating room technology, but we also worked closely with consultants, our internal engineers and Bender GmbH to develop a full power and energy monitoring system, customised theatre control panels and resilient power systems. It perfectly demonstrates what the future of operating rooms could look like.
"The incorporation of RCM underpins the resilience of the power supplies within the new facility and will assist predictive maintenance for maximum availability of the theatres to improve patient outcomes. It allows Bender to offer support through remote monitoring of the systems and enhances immeasurably the services we can offer to Merlin Park."
The two new theatres are set to make a key contribution to restoring full elective orthopaedic procedures at Merlin Park and support the much-needed reduction of waiting list times by enabling the hospital to carry out up to 4,000 procedures each year.
Royal National Orthopaedic Hospital launch market-leading Pathpoint® platform for their patient management, referral triage and PROMs 'Leading Orthopaedic Care, Together'
Open Medical Ltd is delighted to announce an exciting new launch of their Pathpoint® platform at the Royal National Orthopaedic Hospital NHS Trust (RNOH). This launch follows on from an already successful implementation of Pathpoint at RNOH during the start of the COVID-19 pandemic, where the hospital started receiving trauma referrals for the first time in almost 40 years. On Monday, RNOH went live with Pathpoint for the S P A C E D project: Streamlining Processes to Achieve Clinical Excellence through Digitisation. This project, which will include streamlining Referral Management, Digital Consent, and Patient-Reported Outcome Measures (PROMs) in the first instance, will be digitised using Pathpoint's bespoke patient care pathways, and will encompass 15 subspecialties and over 50 different pathways.
During the rollout of the project over the next few months, all referrals to RNOH from across the country, whether urgent or elective, will be captured through Pathpoint's single unified portal. Pathpoint captures real-time granular structured clinical data, is integrated with the eRS national referral system, and will allow the Trust's clinicians to enhance the referral triage processes, ensuring patients are reviewed in a timely manner regardless of where in the country they are referred from.
Pathpoint's Digital Consent will ensure all patients have access to their key procedure documents, giving them the opportunity to review information and provide informed consent safely and securely from their own device. As well as facilitating shared decision making through a patient-friendly portal, Pathpoint will reduce administrative, environmental and financial burden on the Trust, improving efficiency, reducing litigation and ensuring patient satisfaction.
Finally, with healthcare providers and services gradually moving towards value-based models of healthcare, tracking patient outcome measurements are increasingly critical, especially for hospitals like RNOH, where patients often have complex orthopaedic diagnoses that require multiple operations, often over a prolonged period of time. Pathpoint's Digital PROMs solution, which incorporates conditional logic to trigger patient questionnaires based on pathway type and prior scoring, will allow the Trust to monitor patient progress remotely over time, ensuring the Trust can demonstrate the impact of its interventions while identifying those patients who require further clinical attention.
Open Medical has a proven track record of providing digital transformation of clinical care pathways across multiple specialties, with Pathpoint pathway management systems used in over 90 NHS sites in the UK. The company prides itself on it's agility, adaptability to the client's needs and rapid deployment of software.
Key points about the technology utilised:
●Coordination of care – Pathpoint is a cloud-based software that enables coordination of patient care through real-time collaboration between distributed clinical and non-clinical teams.
●Improved patient triage and tracking – Pathpoint helps triage and prioritise daily workloads, enabling seamless planning of patient care through integrated care pathways, regardless of location, and transcending geographical boundaries.
●Data capture and data-driven care – Using advanced natural language processing, clinical information is immediately coded at the point of entry using the internationally recognised SNOMED-CT terminology, providing significantly improved reporting capabilities and quickly generating meaningful care metrics. This data can be utilised in a meaningful way to support future service planning and improvement.
Dr Lila Dinner, Deputy Chief Executive & Chief Medical Officer/CCIO, Royal National Orthopaedic Hospital Trust commenting on the launch of the Pathpoint platform: "The new Pathpoint referral platform will be a huge benefit to our patients – and staff. We're continually seeking ways to improve the patient experience at the RNOH and a key part of that is sourcing new and improved systems that allow us to respond better and quicker. Pathpoint will allow us to streamline and manage referrals and utilise Patient Reported Outcome Measures.
The end result will not only be a better patient experience, but a better staff experience too".
The World's First Hybrid Robotic Surgery Took Place at the Inselspital in Bern
The world's first hybrid surgical robot is a Swiss robot called Dexter. Together with Distalmotion, surgeons at the Inselspital and Lindenhofspital in Bern, as well as the CHUV in Lausanne, have pioneered innovation in minimally invasive care with their input in the development of Dexter. The Inselspital made history with the first clinical use of Dexter in gynecology.
Lausanne, 09 July 2021: Distalmotion announced today the successful completion of a series of hysterectomy cases (removal of the uterus) with Distalmotion's novel surgical robot, Dexter. This marks Dexter's first clinical use and the culmination of a multi-year journey in the development of Dexter.
The world's first Dexter surgeries in gynecology were successfully completed without complications by Prof. Michael Müller, Dr. Sara Imboden and their team in the gynecologic oncology department of the Inselspital. This first series of Dexter surgeries is part of a pan-European Early Adopter Program that aims to lead the way in making best-in-class minimally invasive care more accessible to a wider array of hospitals and patients by leveraging Dexter's novel, hybrid approach to robotic surgery.
Designed, developed and manufactured in Switzerland, Dexter is the result of several years of iterative design and development work conducted in close collaboration with world-leading surgeons. In the lead-up to this milestone, Prof. George Thalmann and his team in the Inselspital's urology department played an elemental role in the development of Dexter, as did Dr. Dominik Böhlen, who heads the center for prostate cancer (DKG certified) at the Lindenhofspital in Bern, and Prof. Dieter Hahnloser and his team in the department for visceral surgery at the University Hospital Lausanne (CHUV).
This first case series sets up the next phase in Dexter's quest to give more patients access to best-in-class, robotically assisted minimally invasive care. Alongside other renowned European hospitals, the Inselspital is poised to continue to play a pivotal role in this mission, as a reference center in an Early Adopter Program conducting extensive clinical studies, and contributing towards developing standards and training protocols for various applications of hybrid robotic surgery with Dexter.
Prof. Müller, Co-Director and Chief Surgeon at the Inselspital's gynecology department confirms: "We have successfully completed a first case series using a hybrid approach to robotic surgery. In each of these cases the team drew on both techniques, laparoscopy and robotics, leveraging proven laparoscopic workflows where it felt these were most efficient and effective, and drawing on robotic aid via Dexter where this was most useful."
Dr. Sara Imboden, Lead Surgeon at the Inselspital, adds: "We have piloted the interplay of robotics and laparoscopy with these first hysterectomy cases. For the long-term, we will continue to investigate this approach, confirming and assessing outcomes and techniques through clinical studies."
Dexter: Developed with surgeons, for surgeons
Surgeons worldwide are convinced that robotics is the future of surgery. Fewer complications, shorter hospital stays and less scarring are among the benefits of robotic aid that contribute to overall superior patient outcomes. Yet, the traditional approach to robotic surgery has struggled for widespread adoption. This is because in robotic surgery one size does not fit all and the traditional approach to robotic surgery has rigidly imposed its tools and processes on surgeons by establishing a false dichotomy, forcing surgeons to choose between robotics and conventional laparoscopy (manual minimally invasive "keyhole surgery"). Furthermore, the traditional approach to robotic surgery is inherently complex and employs a setup that was originally developed to facilitate remote surgery for military purposes – where surgeons are separated from their teams and patients, sometimes not even being on the same continent. With added complexity also come added costs. To date, this combination of complexity, rigidity, separation and cost has limited the adoption of surgical robots in minimally invasive care.
Enabling more surgeons, patients and healthcare systems to reap the benefits of robotic surgery requires breaking with the paradigms of traditional robotic surgery, starting by reducing complexity and rigidity, and by bringing surgeons back to their patients. Dexter achieves this by translating the advantages of conventional laparoscopy and the benefits of robotics into an integrated platform that allows surgeons to choose freely between laparoscopy and robotics. Counter to the traditional approach, Dexter gives surgeons access to the best of both worlds – laparoscopy and robotics – at a fraction of the cost of conventional surgical robots. Dexter caters to a wide array of procedures without disrupting established work flows in the OR, yet overcoming certain limitations of laparoscopy by leveraging the key benefits of robotics. Said key benefits of robotic surgery that Dexter employs are: instrument articulation, precision, control and ergonomics. Together with Prof. Thalmann, Dr. Böhlen, Prof. Müller, Dr. Imboden and Prof. Hahnloser, Distalmotion will continue to develop standards and procedure guidelines for hybrid robotic surgery with Dexter, in order to enable surgeons to jointly leverage the benefits of laparoscopy and robotics.
Made in Switzerland: From first concept, to first case series
Dexter is a swiss solution whose efficacy has now been proven by a leading Swiss healthcare institution. The robot, its single-use instruments and all accessories are manufactured in Switzerland. From 2012 to 2020, Dexter's development paired Swiss engineering excellence with leading surgeons from all over the world, spearheaded by Prof. Thalmann at the Inselspital in Bern, Dr. Böhlen at the Lindenhofspital and Prof. Hahnloser at the CHUV in Lausanne.
Dexter has come a long way, from design-sketches conceived at the Robotics Lab of the EPFL in Lausanne, to unlocking the core benefits of robotics in clinical use. Between then and now lie countless test runs in dry- and wet-labs, as well as numerous design iterations – beginning with a purely mechanical version of Dexter (which does not exist anymore today) and yielding the motorized robot that we know as Dexter today.
Commenting on how an iterative design and development process culminated in hybrid robotic surgery being implemented in Dexter's first clinical case series, Prof. Thalmann, Director and Chief Surgeon of the Inselspital's urology department, said: "A hybrid approach, leveraging the strengths of both laparoscopy and robotics, will help make the benefits of minimally invasive surgery more accessible."
Prof. Hahnloser, the CHUV's chief visceral surgeon, adds: "Dexter has the potential to positively impact many millions of patients undergoing surgery in various areas of the abdomen every year. Having been a part of Dexter's journey since 'Day 1', my team and I are thrilled to continue to play a role in pushing the innovation frontier. The hybrid approach can improve access to best-in-class care for many patients worldwide."
Dr. Böhlen, head of the center for prostate cancer at the Lindenhofspital, summarizes: "The underlying principle of the hybrid approach is to democratize robotics, optimizing usability and emphasizing user-friendliness in order to make the benefits of robotic aid more accessible. It is important to keep in mind that a surgical robot is a tool intended to aid the surgeon, no more and no less – and definitely not the other way around. This includes ensuring that the robotics platform is future proof, an open platform that allows for innovation, for example in the fields of energy-devices and imaging technology."
A new standard of care: Robotic surgery for everyone
Dexter is out to establish a new standard of care, where a broader range of institutions, indications and ultimately patients can benefit from robotic aid for minimally invasive surgery. Dexter's versatility makes having more than one robot per hospital clinically and economically viable –potentially even having more than one Dexter per department. For some hospitals this would represent a giant leap forward in terms of breadth and quality of care provided.
Looking ahead, Michael Friedrich, CEO of Distalmotion, shares some perspective: "We have unboxed the surgeon, brought the surgeon back into the sterile field, closer to her/his team and patient. We had heard this approach labelled a 'win-win-win situation' before, and we obtained CE mark for it in December 2020. Now we have clinical confirmation that it is just that: a win-win-win for patients, OR teams and hospitals. Hence, we will now bring Dexter to more hospitals in Europe, as a first step. We will collect further clinical evidence in the process and continuously remain open to further innovation and optimization, always in close collaboration with surgeons." Michael adds: "Being from Bern myself, accomplishing this milestone together with the world-leading surgeons based in the heart of the city, at the Inselspital, makes it that little bit more special."
Medtronic Launches New Pediatric Monitor that Alerts Clinicians to Potential Airway Obstructions During Ventilation
SonarMed™ Airway Monitoring System Continuously Checks for Endotracheal Tube Obstruction and Position for Neonates and Infants Providing Immediate, Actionable Intelligence for Clinicians
---
Medtronic plc (NYSE:MDT), the global leader in medical technology, recently announced the U.S. commercial launch of the SonarMed™ airway monitoring system. The first and only device of its kind, the SonarMed airway monitoring system utilizes acoustic technology to check for endotracheal tube (ETT) obstruction and verify position in real-time, giving clinicians vital information required to make more informed, life-saving decisions for their smallest patients.
Globally, 415,000 neonates and infants require invasive mechanical ventilation per year and are intubated for greater than 24 hours. Despite recommendations and reduction efforts, 75,000, or about one in five, of these neonates and infants will experience at least one unplanned extubation (UE). In the NICU, UEs are a significant safety concern for neonates and newborns and are the most common adverse event during mechanical ventilation.1 These events can lead to increased length of stay and hospital costs.2 Adoption of the SonarMed airway monitoring system can help reduce the frequency of these events, which in turn can help improve outcomes and reduce healthcare costs.
"The SonarMed airway monitoring device has revolutionized the way we care for our littlest patients. There is no other device in the world that can tell you where the endotracheal tube is located within the airway continuously in real-time, and whether the tube is obstructed or even partially occluded," said Jamie W. Powers, M.D., MBA, neonatologist at Huntington Hospital in Pasadena, California. "At our hospital, this information has led to a drastic reduction in the number of x-rays performed and marked improvement in the effective suctioning of the airway. It also provides the care team and parents the added reassurance that the breathing tube is where it needs to be while repositioning the patient and during kangaroo care. In our institution it has become the new standard of care for all intubated infants."
The SonarMed airway monitoring system is the first and only FDA-cleared airway monitoring system that provides timely notifications and specific measurements that help enable a coordinated response to address potentially critical events such as ETT movement and migration.
"Clinicians face unique challenges in the neonatal intensive care unit (NICU) and pediatric intensive care unit (PICU) daily, ranging from managing oxygenation within extremely tight ranges, to keeping family members informed and comforted. With our innovative technology, this fragile patient group is continuously monitored with a real-time and accurate device that may help improve a clinician's ability to manage the airway and enhance outcomes for our smallest, most vulnerable critical care patients," said Ariel MacTavish, president of the Respiratory Interventions business, which is part of the Medical Surgical Portfolio at Medtronic. "Our goal with introducing the SonarMed technology is to help solve a clinical need to reduce the number of unplanned extubations to help these vulnerable patients start their lives in the healthiest way."
SonarMed, which was acquired by Medtronic in December 2020, specializes in developing solutions that increase patient safety while significantly decreasing healthcare costs.
"With Medtronic's extensive market presence, clinical leadership, and market development expertise, coupled with SonarMed's innovative technology, we are confident that together, we can potentially help save the lives of thousands of infants," said Tom Bumgardner, strategic planning program director, Medtronic Respiratory Interventions, and former SonarMed CEO.
For additional information about the SonarMed airway monitoring system, please visit: medtronic.com/sonarmed.
Any forward-looking statements are subject to risks and uncertainties such as those described in Medtronic's periodic reports on file with the Securities and Exchange Commission. Actual results may differ materially from anticipated results.
The SonarMed Airway Monitoring System should not be used as the sole basis for diagnosis or therapy and is intended only as an adjunct in patient assessment.
1 The Adverse Impact of Unplanned Extubation in a Cohort of Critically Ill Neonates. 2019. KK Kambestad, A Huack, S Nair, R Chapman, S Chin, L Langga, E Mounger, E Guerrero, NP Iyer. 10.4187/respcare.06721. Respiratory Care.
2 Roddy DJ, Spaeder MC, Pastor W, Stockwell DC, Klugman D. Unplanned Extubations in Children: Impact on Hospital Cost and Length of Stay. Pediatr Crit Care Med . 2015;16(6):572-575. doi:10.1097/PCC.
Source: Medtronic plc
Place Your News Item Here. Contact our Advertising Team on 02921 680068 to discuss the applicable fees.
Unique Indoor Way-finder Launched at Chelsea & Westminster Hospital NHS Foundation Trust - Improving Patient Experience and Operational Efficiency
BuzzStreets and Chelsea & Westminster Hospital NHS Foundation Trust are launching a unique indoor way-finder for hospitals to help patients and their families navigate their way around more easily, reduce staff time spent giving directions, help ensure patients arrive on time for appointments, reduce stress, and minimise traffic in the corridors.
Research has shown that 87% of patients ask for directions when they go to a hospital or other public health facility, and 30% of first-time visitors get lost (Source: Deloitte Digital).
The new app is part of the CW Innovation programme – a joint initiative between Chelsea and Westminster Hospital NHS Foundation Trust and its charity CW+ – to 'test and scale' innovations and digital systems that improve patient care and experience.
After a successful trial, the new system created by BuzzStreets, allows visitors to Chelsea & Westminster Hospital in London to navigate their way from outside all the way to the specific location they need, whether that's a bed on a ward, a consulting room, the café, or the pharmacy. The app includes Points of Interest such as offices, cafeterias and, uniquely, more information about the Trust's collection of over 2,000 works of art and digital installations that transform the hospital environment for patients, families, volunteers and staff.
The app uses a system of BLE Beacons, Wi-Fi signals, and the Earth's magnetic field to pinpoint the person's location, giving them real-time directions, both spoken and visual, to allow them to navigate through the hospital, both horizontally and vertically.
When the person arrives at the hospital, they open the app and key in the location they want. The app then calculates a route from their current location to the point in the hospital they need. It shows a map of the hospital and their route is clearly marked. Just like traditional car sat-nav systems they then press 'start' and the app visually shows them where to head and audibly advises them.
As they progress along the route the app constantly updates showing them where they are and giving them regular voice and visual updates to show them where and when to turn, go straight-on, or change floors. It will also let the person know when they have arrived at their destination. However, unlike car sat-nav the system is accurate to 1-2metres as the 'sensors' are within the hospital (not 12,000 miles away in space).
"The pilot project has already shown that the app reduces frustration for staff and visitors alike. It helps reduce the anxiety of patients and visitors trying to find their way in the hospital, which previously required contact with multiple different staff. Overall, we've seen that the app helps save resources, improve patient outcomes, and enhances the entire hospital experience for patients and their families," explains Vanessa Sloane, Deputy Chief Nurse at Chelsea and Westminster Hospital NHS Foundation Trust.
The app also allows Personalised Navigation Services, for example allowing people with disabilities to receive navigation instructions that suit their needs. This may mean directing them to lifts rather than staircases, for example.
"The BuzzStreets system brings outdoor navigation inside. And as one of London's biggest and busiest hospitals, Chelsea and Westminster Hospital has been the perfect pilot location. It's a complex building with over 6000 visitors every day – all with different needs, at different times, with different end locations. We've developed the app to tackle the common problems relating to visitors getting lost and staff spending time giving directions to save the NHS both time and money," says Joe Fernandez, CEO of BuzzStreets.
For more information see: www.buzzstreets.com and www.cwplus.org.uk/our-work/cw-innovation/
Leading Medical Device Developer Celebrates 15 Year Anniversary
Wideblue celebrated 15 years of success in April 2021. The multi-award winning firm was created on 01 March 2006 with a management-buy-out of Polaroid's European Research and Design Centre, and is now regarded as one of the UK's leading independent product design firms.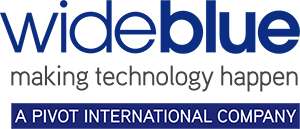 CEO, Russell Overend, explains: "Celebrating our 15th year anniversary is a huge milestone, and we have certainly seen big changes since the management-buy-out created Wideblue in 2006. Highlights include winning our first Innovate UK project in 2013, winning European Product Design awards in both 2017 and 2019, and Pivot International acquiring a majority stake in 2018 enabling us to add global manufacturing and supply chain to our scope.
"I'm delighted to say 15 years later Wideblue still has a healthy mix of experienced engineers from the original Polaroid days, through to talented new scientists and engineers. The multi-disciplinary team has a wealth of experience designing new products ready for manufacturing with a range of trusted worldwide suppliers. Through the Pivot International organisation Wideblue can design new products with access to the latest components, technologies and manufacturing in UK, EU, USA, Mexico, China, Taiwan and Philippines."
"The last year has been a challenge for all of us, but for Wideblue it has presented many new opportunities and has resulted in us expanding our team to 22 to meet the demand for Covid-19 response medical products. We are currently adding a new medical and optical clean room, manufacturing, test and development space, which is being used for small volume start up production for clinical trials and launch quantities."
Overend adds: "We are currently working on new medical devices, consumer products, industrial products, quantum technology, instrumentation, renewables instrumentation, and security with clients in UK, Belgium, Portugal, Spain, USA, and Canada."
Since 2006 Wideblue has been delivering hundreds of projects for a variety of organisations from start-ups and university spin-outs to multinational corporations. The company is frequently engaged in collaborative projects working with some of Europe's leading research organisations and universities, especially in the areas of imaging, optoelectronics and bio-medical engineering. The skill set in-house ranges from physics, optics, electronics and software through to mechanical engineering, prototyping, manufacture and supply chain management.
For further information about Wideblue please visit www.wide-blue.com